Why built-in features from macOS may not be enough
Your Mac has built-in FTP features that let you transfer files to other devices remotely. You can connect to Mac and Windows computers if they have file sharing turned on.
Though useful in some cases, they're very limited compared to the features that are available in third-party tools.
According to Apple, these features give you read-only access, which means you can't upload anything to the server. You're only allowed to download files from it. To get more features, we recommend downloading a third-party FTP app, such as the ones we've mentioned below.
What to Look for in a Good FTP Client?
There are various FTP clients for Mac on the market, and you'll find different options more useful depending on what your transferring needs are. Each FTP client comes with its own strengths and weaknesses, although some options stand head and shoulders above the rest.
However, as a general rule, the best FTP manager for Mac should have the following features:
File management options: Lots of FTP software on Mac can function as file managers, thus improving or replacing other functions you might have relied on Finder for. That's why you should choose the best FTP program for Mac that has options to make it easier for you to move and organize your data.


Security: Standard FTP connections aren't entirely secure with basic settings, so it's important to find an FTP client for Mac that offers end-to-end encryption when connecting to other servers.


Speed: Some file managers can be bloated with features, and consume a lot of processing power to work efficiently. If you really need the extra features, then you can make the trade-off, but otherwise, select the best FTP software for Mac that won't slow down your device.


Compatibility: The best FTP client for Mac should have good compatibility with your different storage solutions and other file transfer protocols. If you use cloud storage services like Google Drive, OneDrive, and Amazon S3, then make sure your FTP client works with them. It's also important to make sure that the right connection types are supported if you want to use the best SFTP for Mac and FTPS as well.


User interface: It's important to pick the best FTP app for Mac that's comfortable and intuitive for you to use. With the best file manager with FTP that offers a lot of customization options, casual users can find the interface more complicated or intimidating.
Many apps compete to be the best Mac FTP client, but Commander One stands out. What makes it one of the best remote file transfer applications is the plethora of features it's packed with. One of its best features that's highly popular among users is the dual-panel interface that lets you quickly navigate it.
It has many other features that make it better than other FTP applications. Moreover, it's more secure than other tools. Let's take a look at some of the main features that are offered by the macOS FTP client:
Safe and secure – Commander One comes with 256-bit Advanced Encryption Standard (AES) and all file transfers are end-to-end encryption. This is the reason why it's more secure than other FTPs.


Mount cloud storage – It lets you mount different cloud storage services as local drives. This gives you easy access to your files that are stored on sites like Google Drive, Dropbox, WebDAV, Amazon S3, along with SFTP and FTPS connections.


Improve your device's speed – Since Commander One acts as your one-stop access to all your storage needs, you don't have to use any other app. You'll find that your device will run faster when you don't have so many cloud apps open at the same time.


Preview and edit files – Commander One lets you preview and edit files without having to download them to your device. This will help you save harddrive space. Some formats that are supported include RAR, Zip, TGZ, TBZ, and 7z.


Not resource-intensive – Despite the abundance of features, Commander One doesn't consume too much processing power. It's a smooth and responsive macOS FTP client and works without any hiccups.
We recommend trying out the app's free version, which is among the best free FTP for Mac. It'll give you a good idea of what the app is like and whether or not it's right for you. You'll need the premium version to access some advanced features like Terminal emulation and iOS device mounting.
Pros:
Comprehensive cloud storage integration
Good folder customization and search option
Multiple archive formats supported
Cons:
No option to synchronize directories
Some of the most powerful features require premium edition
Some users may prefer single-panel view
Price:
Available for free
PRO version available for $29.99 (one-time purchase)
CloudMounter
Among FTP clients Mac users enjoy, CloudMounter is another app that stands out. As evident by its name, you can use CloudMounter to mount all your cloud storage, integrating them on your Mac.
This allows for easy file management and helps save disk space, since the app doesn't require you to make copies of files on your local drive. Compatible services include Google Drive, Microsoft OneDrive, Amazon S3, and more.
Just like Commander One, CloudMounter has end-to-end encryption. All your data is kept safe with AES-256 encryption. Your Mac's Keychain security also helps make it safer and more reliable.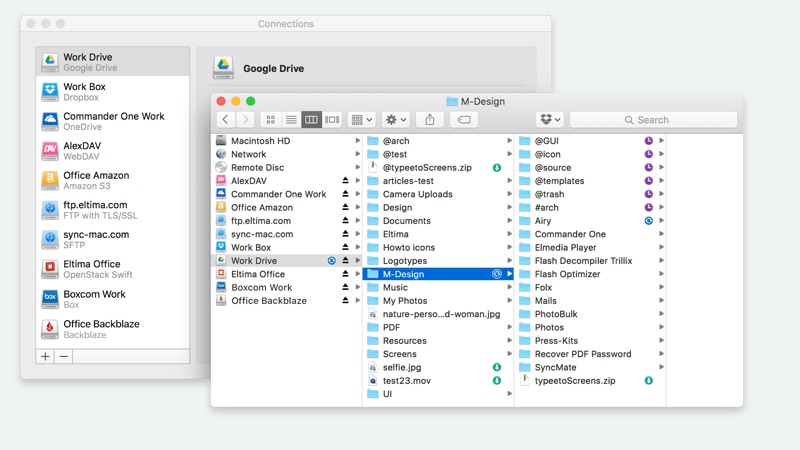 Pros:
Cloud drive mounting
Highly secure
Intuitive UI is a pleasure to use
Cons:
Many features relegated to premium edition
Price:
Free
Standard version available for $9.99 per 3 months
Economy version available for $29.99 per year
Transmit
Transmit is a file manager and FTP client for users who want top-notch server integration. Many will agree that it's the best SFTP client for Mac. Its most recent version, called Transmit 5, was released in 2017, and has many new features.
The FTP client lets you upload, download, and manage files using a user-friendly interface. It's compatible with 11 cloud services, including Backblaze B2, Google Drive, Dropbox, Microsoft Azure, and of course, SFTP and Amazon S3.
One of Transmit 5's new features, called Panic Sync, has the ability to sync your sites securely. Some other features that are new include: batch renaming, viewing a file's info in a sidebar as you browse, a bar that lets you access folders you view frequently quickly, and key generation within the app.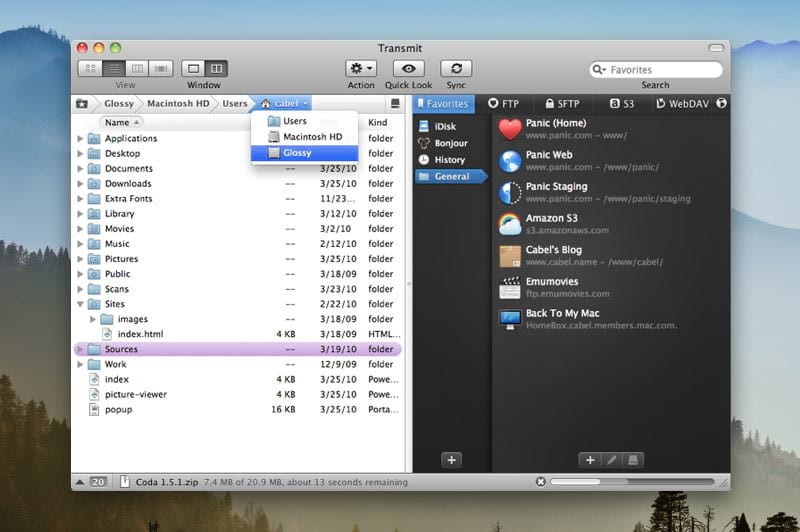 Pros:
Responsive FTP client for Mac
Great support for multiple connection types
Transmit 5 is 8 times faster at sending large s3 files than the previous version
Cons:
Expensive compared to other options
Connections suffer from timeouts occasionally
Price:
Free 7-day trial version
Premium version available for $45 (one-time fee)
ForkLift
If you value an intuitive user interface in a Mac FTP client above all else, ForkLift will be an attractive option. Its latest iteration, called ForkLift 3, is a dual-panel file manager and file transfer application that's compatible with SFTP, Amazon S3, Backblaze B2, Google Drive, and more.
It allows you to connect to multiple servers and drag-and-drop files between them. You can also access ForkLift from the menu bar and access saved remote connections from there. It also has a dark mode.
Overall, the program is pleasant to navigate and has some great features, making it one of the best OS FTP client programs.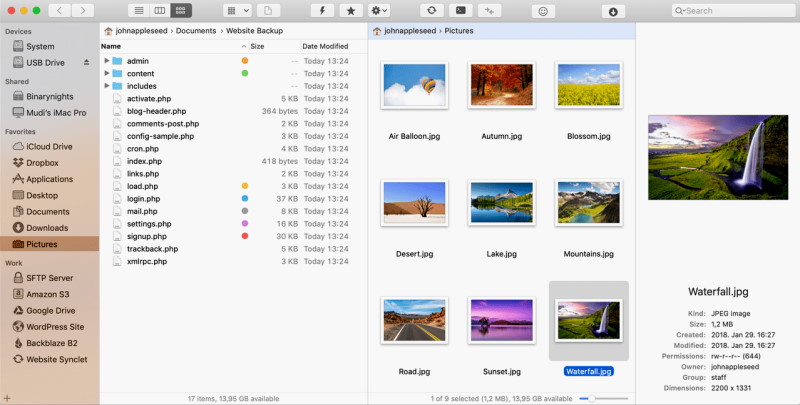 Pros:
Good dual-panel interface
Excellent folder synchronization options
Rename files in batches
Cons:
Minimal Terminal integration
Lack of keyboard navigation options
Price:
Free
Single-user license available for $19.95 (one-time fee)
Family license available for $29.95 (one-time fee)
Small business license available for $69.96 (one-time fee)
FileZilla
Since its launch in 2011, FileZilla has been a fan favorite and continues to be crowned the best free FTP client Mac option by many users. It's compatible with Mac, Windows, and Linux. Best of all, it's an open-source application, so the full version is completely free if you want to try it out.
You can use it to transfer large files and edit them remotely. It also supports SFTP and FTPS. You can easily transfer files using its drag-and-drop feature. Note that while it's a great tool, some users may find its interface a bit intimidating, which is why we recommend using a FileZilla alternative on Mac.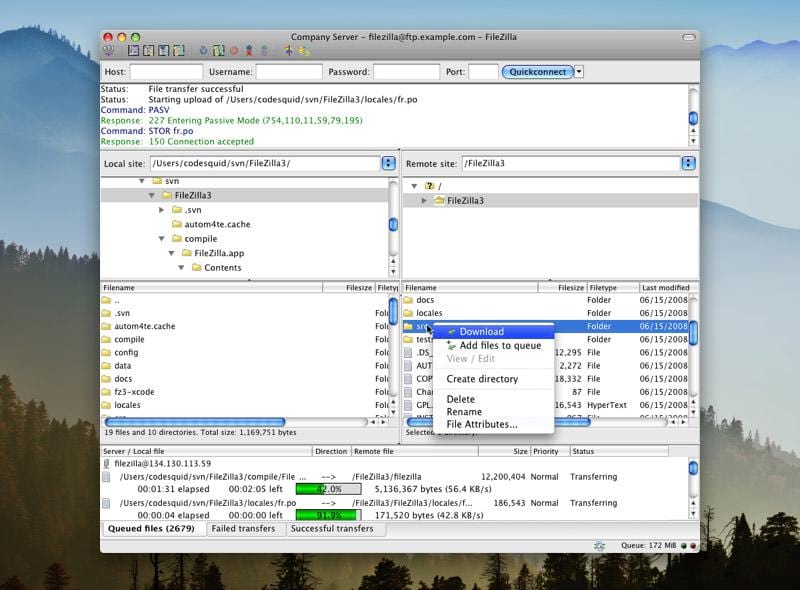 Pros:
Multiple connections supported
Useful drag-and-drop feature
Filter files by name and details
Option to view local directory and remote directory side-by-side
Cons:
Interface can be intimidating for casual users, too many functions can slow navigation
Price:
Free
FileZilla Pro available for €24.99 per 3 years
Cyberduck
A lightweight and efficient FTP client for Mac and Windows, Cyberduck offers lots of support for different connection types and cloud services. The combination of speed and functionality has made it a popular choice among macOS FTP users over the years. It can also be utilized with a dashboard widget. It's also among the best free FTP clients for Mac.
The only downside about Cyberduck is that it only has a single-panel display. If you want a dual-panel FTP client, we recommend checking out a Cyberduck alternative for Mac.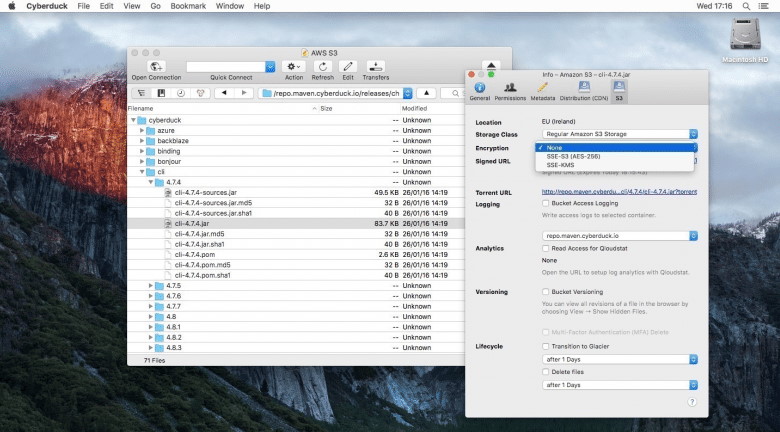 Pros:
Clean, streamlined UI
Great connection options
Broad file extension support
Lets you view network server history
Cons:

What is an FTP Client?
An FTP client, or a file transfer protocol client, is a software that allows you to transfer files to another device remotely over the Internet. It has an interface, which makes it easy for users to connect to remote servers and send files. Note that an active Internet connection is required for an FTP client to work.
Most FTP applications require users to sign in with their credentials. Ones that don't have a sign-in option allow you to transfer files anonymously. Once signed in, you access a server by entering a port number. Then, you're ready to start uploading or downloading files.
Comparison Table of the Best FTP Clients for Mac
For your convenience, we have put all these FTP Mac alternatives into a comparison table so you can have a better idea of what features they offer as well as a price. Check it out and find your perfect FTP client.
Scroll to view more

Top features

Commander One

CloudMounter

Transmit

ForkLift

FileZilla

Cyberduck

User-friendly interface

User-friendly interface

Drag and Drop files function

Drag and Drop files function

Hotkey support

Hotkey support

Ability to encrypt files

Ability to encrypt files

Edit/rename files directly on the server

Edit/rename files directly on the server

Synchronizing folders

Synchronizing folders

Queuing file operations

Queuing file operations

SFTP client

SFTP client

WebDAV client

WebDAV client

Supports cloud connections

Supports cloud connections

Automatic reconnection to the server

Automatic reconnection to the server

Multilingual

Multilingual

Price

$29.99

$44.99

$45

$29.95

Free / PRO $20

Free
Conclusion
FTP is the standard for server connections, so it's worth taking the time to find the best Mac FTP client that suits your particular needs. As you've seen, there are a lot of FTP software Mac users can choose.
We recommend trying out a trial version of the software you like (if it's available), and then upgrading to the premium program if you enjoy using it. Make sure that the FTP application you choose is compatible with other storage services, and that it'll keep your files secure when making transfers.