Multiple connections
Map as many WebDAV servers as needed at the same time with this Mac OSX WebDAV client.
Mount server as a disk
Access online data as any other folder on your Mac by
mounting the WebDAV
server as a local drive via Commander One.
Transfer files among servers
Transfer files among the servers directly and benefit from centralized management, without copying any data to local Mac.
NEW
Yoo-hoo! Commander One runs natively on Mac computers with Apple silicon: M1 and M2 series!

Mount WebDAV on Mac computer
WebDAV is an extension of the HTTP protocol that allows not only loading web pages into the browser but also using an extended set of commands to work with files on a remote server. That is, WebDAV is such a replacement for FTP protocols.
With the help of this WebDAV OSX client, you can seamlessly connect to a remote server and map it on your computer as a local drive that guarantees complete control over the files on the server.
Flawless and effective file transfer is achieved due to support for multiple connections and unlimited tabs. Enjoy convenient work with remote files and folders via this Mac WebDAV client.
Cloud Management
All your cloud storages are easy to access and work within Commander One in a fast and reliable way.
FTP, FTPS, and SFTP protocols are supported for connection with remote servers via
Mac FTP client
- Commander One.
Your entire storage, including S3-compatible storage, can be linked with Commander One or only specific buckets — it is up to you.
Work with WebDAV protocol server directly from the interface of this WebDAV client for Mac.
Your OneDrive files don't have to be saved to your computer for you to work with them as with the local ones.
Manage your documents directly on
Box cloud storage
. Get more opportunities for Box file sharing with our file manager in addition to Mac WebDAV connection.
Support for encryption on online connections
Protect your online data with the encryption feature provided by Commander One - an excellent WebDAV client Mac solution. Have additional control over WebDAV security.
Web services (FTP, Amazon S3, WebDAV)

Cloud storages (Dropbox, Google Drive, OneDrive and more)
Private files

s#hV*IJ@3*mK

folder

mountencr2

Research

iu3T5YKp$dVy

xls

mountencr2

Presentation

(F-7bd[,-[Nj

png

mountencr2

Report-20xx

ypZp}tx6GL<d

doc

mountencr2
Encrypt data
Free file manager
You don't have to be a professional to get full control over your files and work with them in a dual-panel file manager. Commander One provides you with easy-to-use functionality and fast mechanisms for perfect file management.
Hidden files
Just one click of a button on the toolbar displays/hides all hidden files
Fonts & Colors
Select any for a visually pleasing experience
Brief mode
Multiple files and folders on tap at a time
History and Favorites
An instant access to your favorites or already opened directories
essential features at your fingertips
Customizable Hotkeys
This WebDAV client for Mac allows assigning keys to the most used actions
Unlimited tabs
Don't worry about having to close opened folders while working with others
Flexible selection options
Make selections according to your current needs
File operations queue
Every ongoing file operation is queued and you can manage the queue
helpful tools you are getting for free
ZIP archives
They can be easily compressed or extracted
Built-in file viewer
Hex, Binary, text, media, image, HTML files are supported
List of computers on the network
View and access shared computers over the network
Root Access
Benefit from getting the most complete access to your files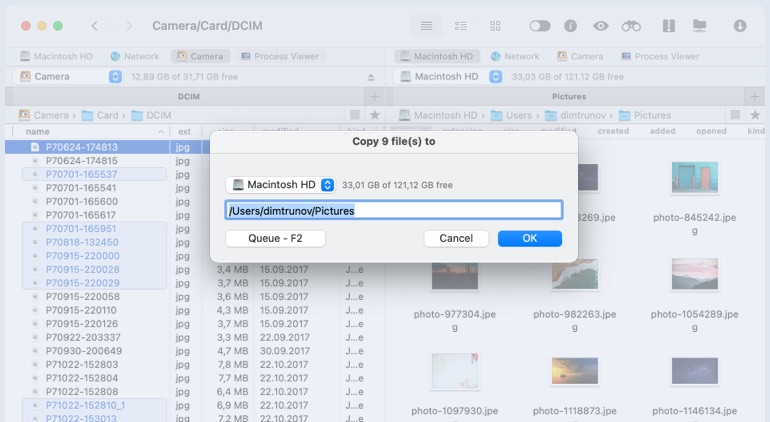 PRO Pack
The impressive Commander One PRO Pack is available for 15 days for free!
Cloud connection Manager
Besides being a great WebDAV client for Mac, the app allows you to mount various online storages to your Mac to access them just like your local drives
Mount iOS devices
Mount your iOS device for a comprehensive access
Mount Android devices
Work with files on your Android device. Media information and photos included
Mount MTP devices
Manage your MTP devices' files as in local folders on Mac
Terminal emulator
A fast and efficient emulator adds features you were looking for
Process viewer
View current processes on your Mac and quit any of them
Themes
Personalize your Commander One up to your preferences
Frequently Asked Questions