Browse S3-Compatible Storages
Get access to documents in S3-compatible storage solutions like Wasabi, Digital Ocean Spaces, Minio, Ceph, Dunkel Cloud Storage, DreamObjects, and Google Cloud Storage. More opportunities for cloud file management on macOS with S3 Browser Mac alternative - Commander One.
Pick the bucket
You don't have to link all buckets if you don't need to work with all of them. This Mac Amazon S3 client lets you link specific Amazon S3 buckets and manage them in the app.
All regions support
This Mac Amazon S3 client supports all AWS regions, including US East (Ohio), Asia Pacific (Mumbai), Canada (Central) and EU (London).
NEW
Yoo-hoo! Commander One runs natively on Mac computers with Apple silicon: M1 and M2 series!

Amazon IAM support
Commander One supports Amazon IAM technology. This gives you opportunity for more detailed access control across all Commander One services. You can easily control who can access certain services and under what conditions. At the same time using identify policies, you can operate permissions for users granting them access according to their privilege.
S3 Browser Alternative for Mac
Have native access to S3 storage directly from Finder with this AWS S3 сloud storage browser Mac alternative - Commander One. Browse cloud storage with no need to sync or copy the content to your Mac computer.
Commander One is a fast and simple S3 uploader for Mac, as the app supports drag and drop and file operation queue features. The latest allows uploading files to the cloud in the background for facilitating your workflow.
Manage, transfer or copy files within one app. The app makes it possible to work with the files stored online as with the local ones. Mount Amazon S3 to your Mac and have it listed as a network drive.
Cloud Storage Browser and Connection Manager
Your clouds are easy to access, browse and manage in Commander One in a fast and reliable manner.
Connect to remote servers via FTP, FTPS, and SFTP protocols with the built-in
FTP client
of Commander One.
With the help of this AWS S3 client for Mac, you can link the entire storage, including S3-compatible storage, or just specific buckets to work with them in our file manager.
Connect to the WebDAV protocol server to work with its files directly from our app.
Mount or integrate multiple Dropbox accounts. The latter will allow you to share Dropbox links.
Manage your documents directly on the
Box cloud service
without copying the content on your Mac hard drive.
Support for encryption on online connections
Increase S3 security with the help of this S3 client for Mac. Thanks to Amazon S3 encryption provided by the app be sure that your online files are totally protected.
Web services (FTP, Amazon S3, WebDAV)

Cloud storages (Dropbox, Google Drive, OneDrive and more)
Private files

s#hV*IJ@3*mK

folder

mountencr2

Research

iu3T5YKp$dVy

xls

mountencr2

Presentation

(F-7bd[,-[Nj

png

mountencr2

Report-20xx

ypZp}tx6GL<d

doc

mountencr2
Encrypt data
Free Apple file manager
Besides being a great alternative to S3 Browser for Mac, Commander One is packed with the most important options for optimal Mac file management. You may be a professional user or just becoming one – Commander One is your ultimate solution to fully control your document flow.
So, make the most of this app that offers you unhinged control over your data, including the possibility to access S3 bucket from browser. With Commander One you will be able to easily organize all files and have an overview of everything. With the storage browser functionality, you'll always know where the essential data is.
Show hidden files
A handy toolbar button puts all hidden files on display
Fonts & Colors
Whatever colors make your eyes feel better — set those in Commander One
Brief mode
See and work with multiple folders and files at once
History and Favorites
Your most used or already opened folders are easy to access
essentials at your fingertips
Customizable Hotkeys
Your every action big or small can be assigned with a hotkey
Unlimited tabs
No need to close and folders when working with others
Convenient selection tool
Be flexible by selecting only those files you need to work with
File operations queue
Each operation is queued accordingly
handy tools you get for free
ZIP Support
Extract or compress your archive files
Built-in file viewer
Hex and Binary files are supported along with the text, media, image, HTML ones
Look up other computers in local network
View and access available computers on the network
Root Access
Be in total control over your files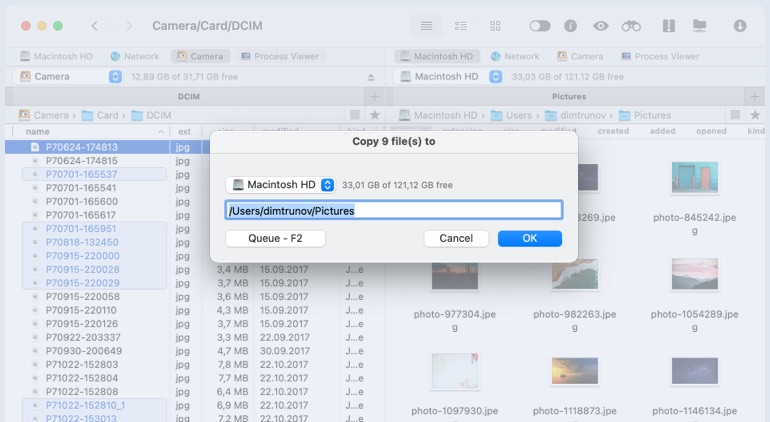 PRO Pack
Use free PRO Pack features of Commander One for 15 days!
Connection Manager
Thanks to this S3 Mac client, various online storages can be mounted to your Mac to be used as local drives.
Mount iOS
Your iOS device can be mounted as a disk.
Mount Android
Work with files on your Android device. That includes media information and photos.
Mount MTP
Manage your MTP device files as in the local folder on Mac. A camera is an example of an MTP device.
Terminal emulator
An efficiently fast emulator adds much-needed features.
Process viewer
See all current processes on your Mac with the possibility to quit any.
Themes
Personalize your experience with Commander One.
Frequently Asked Questions