FTP client for Mac with great variety of advanced functions
Commander One is a perfect dual panel file manager that flawlessly combines an FTP client for Mac and an Amazon S3 browser and provides you with the built-in Mac Terminal emulator making it super easy for you to manage all the system processes.
Commander One 2 is here!
Advanced file manager for macOS got the support for OpenStack Swift, Box cloud, Backblaze B2 and Amazon S3-compatible storages, a lot of additional features and improvements. Reach a high level of file management on Mac!
Dual-panel versatility is amazing
Commander One's interface lets you open an unlimited number of tabs, supports any file types, offers the ability to set up your very own hotkeys for any action, and way more.
Set up your own key combos for lightning-fast operations with files. Any action is much faster with your favorite hotkeys.
Command Line bar offers great control over your files. Your file structure and system processes are in good hands with the built-in Mac Terminal emulator.
Convenient file operations
Commander One is probably the fastest way to copy, move, delete the files, and more.
Save your time and disk space
With its optimized mechanisms, Commander One helps you save time and disk space.
Two panels help accelerate your file operations speed tremendously
$475 cheaper than other solutions
Enlarge your Disk Space*
Macintosh HD • 128 GB
+47.26 GB
With built-in FTP manager you can easily connect to remote servers through FTP, SFTP or FTPS. With two panels instead of just one, Commander One promotes efficiency and speed and also neatly organizes your file operations in queue.
Plugins with additional functions by third-party developers will be supported by Commander One in the nearest future.
Commander One can be personalized up to your individual preferences with its endless color options.
Reviews by popular media
"This app is everything OS X Finder wants to be"
"Here's a good example of a Mac utility which could be used to replace the Finder with a laundry list of more useful, albeit somewhat geeky, features."
"Once it's installed, you get dual pane browsing, unlimited tabs, a variety of sorting options, an easy toggle for revealing hidden files, and more."
"We found Commander One to be a convenient interface, making it easy to copy and move files at will."
Utilities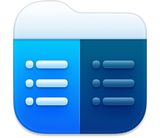 Commander One
free
This dual panel file manager for Mac
is fully compatible with
macOS 10.10 and later
.
Requires

45.83MB

free space
, latest version
2.5.2(3329) Released 25 Oct, 2020
4.5
rank based on
89
+ users