Top Windows FTP client solutions 2023
As we all know it is rather easier and cheaper to manage file storages on FTP servers than using cloud technology no matter how actively the latest is being promoted nowadays. In fact, FTP clients are a category of software that is just as necessary as ordinary file managers.
In brief, FTP is a standard TCP-based network file transfer protocol used to organize sending and receiving files from a remote computer or server whereas FTP clients are utilities that help us quickly share files over the Internet. In some ways, this technology is a bit old, but still rather relevant and popular. Because there are some situations when files can only be transferred over the FTP protocol. That is why even at this time of technological progress, it's hard to do without FTP.
Fortunately, the network has a large number of different Windows FTP clients, Mac FTP clients, etc. presented by a great variety of developers. That is why it is sometimes very difficult to decide which of them it is better to stop your choice on. So what is best Windows FTP client? Install, try and make a choice, which is most suitable for you. We hope that this review will slightly reduce your workload in order to find a suitable solution. So here we go.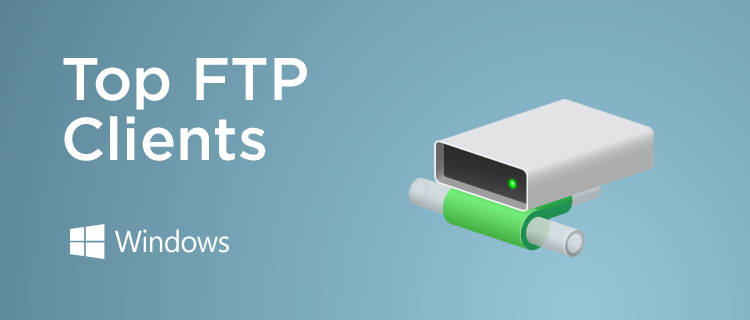 Our list of top FTP Windows solutions
This is a free software, characterized by stable operation and has flexible settings. The manager is not demanding on PC resources, it is compatible with almost all types of operating systems. FileZilla is not only a cross-platform but also a multi-language client. It is easy to use, the app supports basic protocols such as FTP, SFTP, FTPS, etc., has a user-friendly interface with drag-and-drop capabilities, tab support, directory comparison, synchronization and remote search. This FTP client Windows solution is regularly updated, which indicates the active status of its development.
Good alternative to FileZilla for Mac
It is rather simple and affordable FTP client for Windows developed by the CoffeeCup company. The app will give you all the necessary basic features when working with FTP. Download files quickly, save all the server settings in one place, pause or cancel the downloads. CoffeeCup Free FTP is intuitive and easy-to-use software. Among its features one can see Windows XP support, file names typed in Cyrillic support, transfer files in binary, text and automatic modes, as well as the software, allows you to upload a file by simply dragging the icon with the mouse.
FireFTP is an excellent extension for the Firefox browser, which will provide you with a full FTP client in the usual browser tab. The work with this add-on is very convenient and easy. Despite being only an add-on, the interface of FireFTP is presented as in a classic way for FTP clients. It has a dual-pane mode that allows you to move, rename, add, delete files and perform other operations with the help of normal mouse clicks. In general, FireFTP is a very convenient and useful extension for the Firefox browser, which will be appreciated by those users who in one way or another are connected with the need to transfer and synchronize files via FTP-servers. Turns your web-browser into an FTP client for Windows with Fire FTP.
It is a powerful Windows FTP client designed for transferring files over an FTP protocol. With its help, you can seamlessly download web pages as well as any other files to the server, transfer data from one server to another, and so on. In addition, CuteFTP allows you to change file names, delete files and folders and edit documents directly on the remote server using your internal editor. CuteFTP has a lot of additional functions that makes it much easier to work with files and allow, for example, to synchronize local computer folders with folders on an FTP server and many more.
It is one more solution from our top FTP clients for Windows list. This FTP program has an intuitive interface, that reminds of Windows Explorer. This app supports drag and drop function and makes it possible to manage several simultaneous downloads, supports automatic recovery and resume of the downloads as well as the work from the command line, etc. Among the savvy user, this FTP client can be considered as the best FTP client for Windows due to its advanced features. The program allows you to quickly update sites, transfer files directly from one FTP server to another, supports interrupted downloads and has advanced file search capabilities. Among its other features, you can note the correct setting of the file download time, displaying the status of transferring files from one server to another, and additional encryption of passwords.
WinSCP is an open source software and a free SFTP client, an FTP client, a WebDAV client and a SCP client for Windows. The utility allows you to transfer files between computers using secure protocols. This one more best FTP client Windows solution has a built-in command line where you can make custom scripts in order to simplify the transfer process. With WinSCP, you can both upload files to the server and download them from there as well as rename or delete the necessary files without any problems. WinSCP can also synchronize local directories with remote directories by pressing a single button or a combination of keys.
There is no need to use any extensions or plug-ins if you want to use Microsoft Internet Explorer as an FTP client for Windows. In order to connect to a remote server, you need to enter a URL that includes host names, usernames, and passwords. However, you will not see here a lot of advanced features of other Windows FTP clients.
In case if you are searching for an FTP client for macOS we can recommend you to use Commander One. Straightforward and powerful file manager with a great variety of useful features. The app supports connection to remote servers via FTP, SFTP, and FTPS. Among the rest of the feature, it is worth noting, that the app makes it possible to mount cloud storages as hard drives and work with their content in no time.
Commander One
Requirements: macOS 10.13+

.

37.59MB of free space

Version

3.7(3831)

. (

25 Sep, 2023

). Release notes
Rank

4.7

based on

889

+ users, Reviews(524)
Category:

Utilities