Trying to transfer your data from an FTP client to Amazon S3 buckets or S3 to FTP? Luckily, there are plenty of solutions that exist. In this article, we're going to explain some of the easiest methods you can use to achieve that in a matter of minutes.
You no longer have to be tech savvy to move your files from one protocol to another. Just follow the guidelines we've shared below!
FTP to Amazon S3 in the Most Simple Way - Using Commander One
Commander One is one of the most convenient S3 FTP solutions that you can use to connect to an FTP server and mount various cloud storage services as local drives. It consolidates all your online data in one place and you can access them in a dual-panel window. 
With the help of Commander One, you'll be able to mount S3 as a local drive on Mac. Syncing files will never be a problem, as all your online storages will be integrated within Commander One, and you'll be able to work with them in a single place. 
Commander One also works great as a Finder alternative. You can quickly browse through your files using its two panels, just like you would in Finder.
How to Upload Files to S3 Bucket with FTP Client?
Now that you know what Commander One is capable of, it's time to learn how to use it to upload FTP files to an Amazon S3 bucket. Here are the steps you need to follow to FTP to S3:
2
Now go to the Connections window and choose the type of connection you want to create. In our case, it's FTP.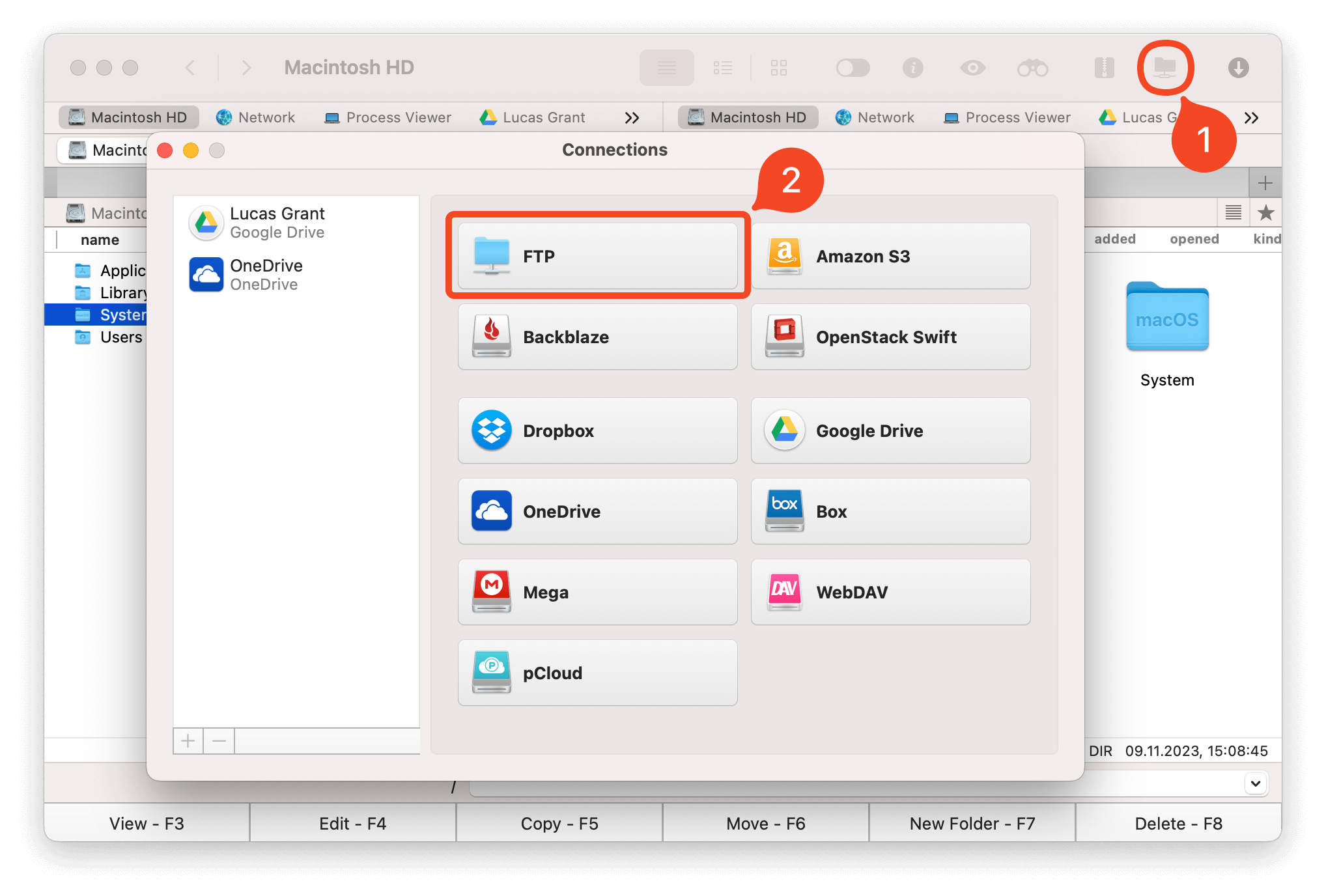 3
Fill out the details of your new FTP connection (things such as name, server, login ID, and password). Once you're done, click on Connect.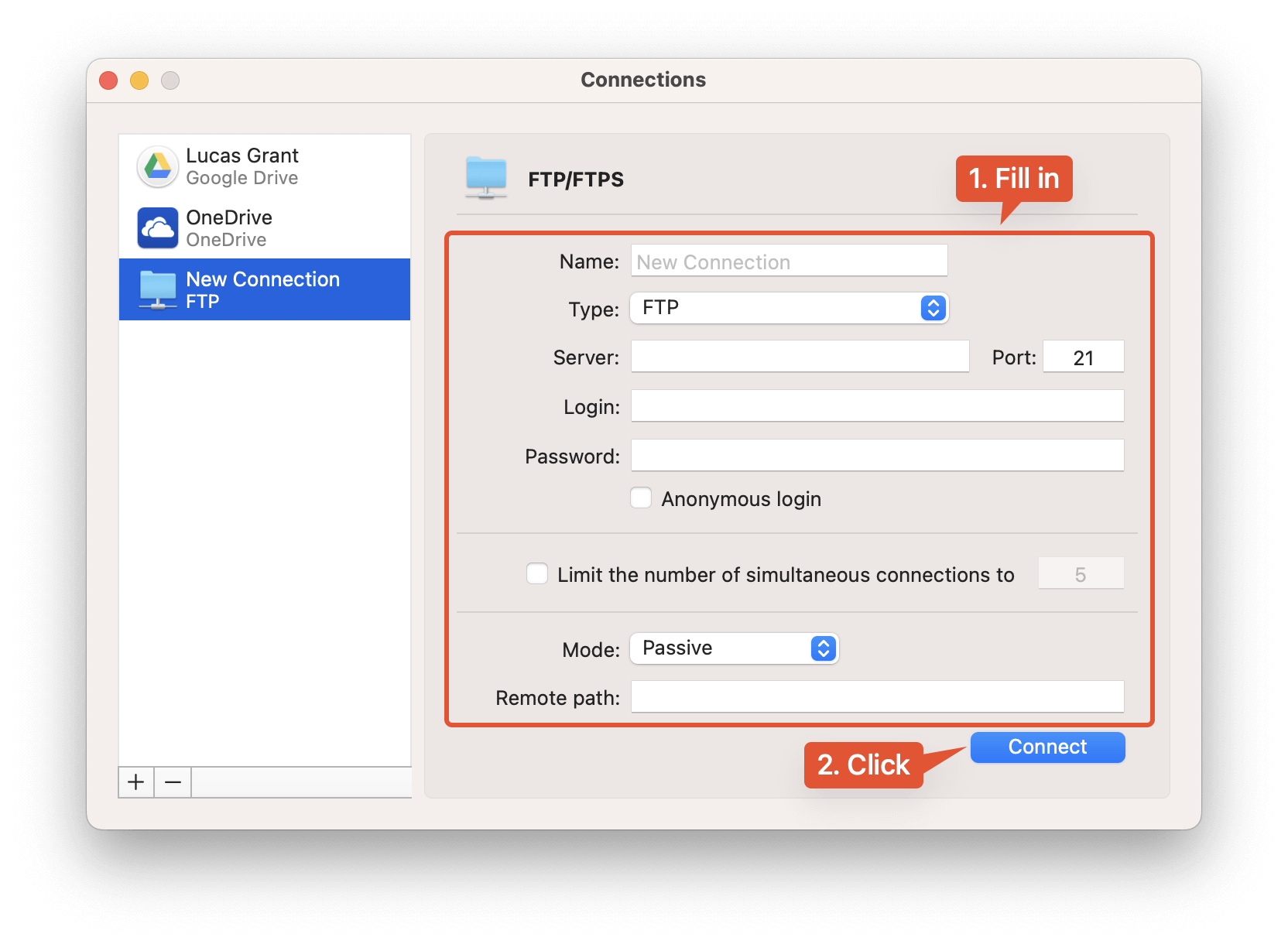 4
Now go back to the Connections window and select Amazon S3. Give the connection a name, and enter the access and secret keys.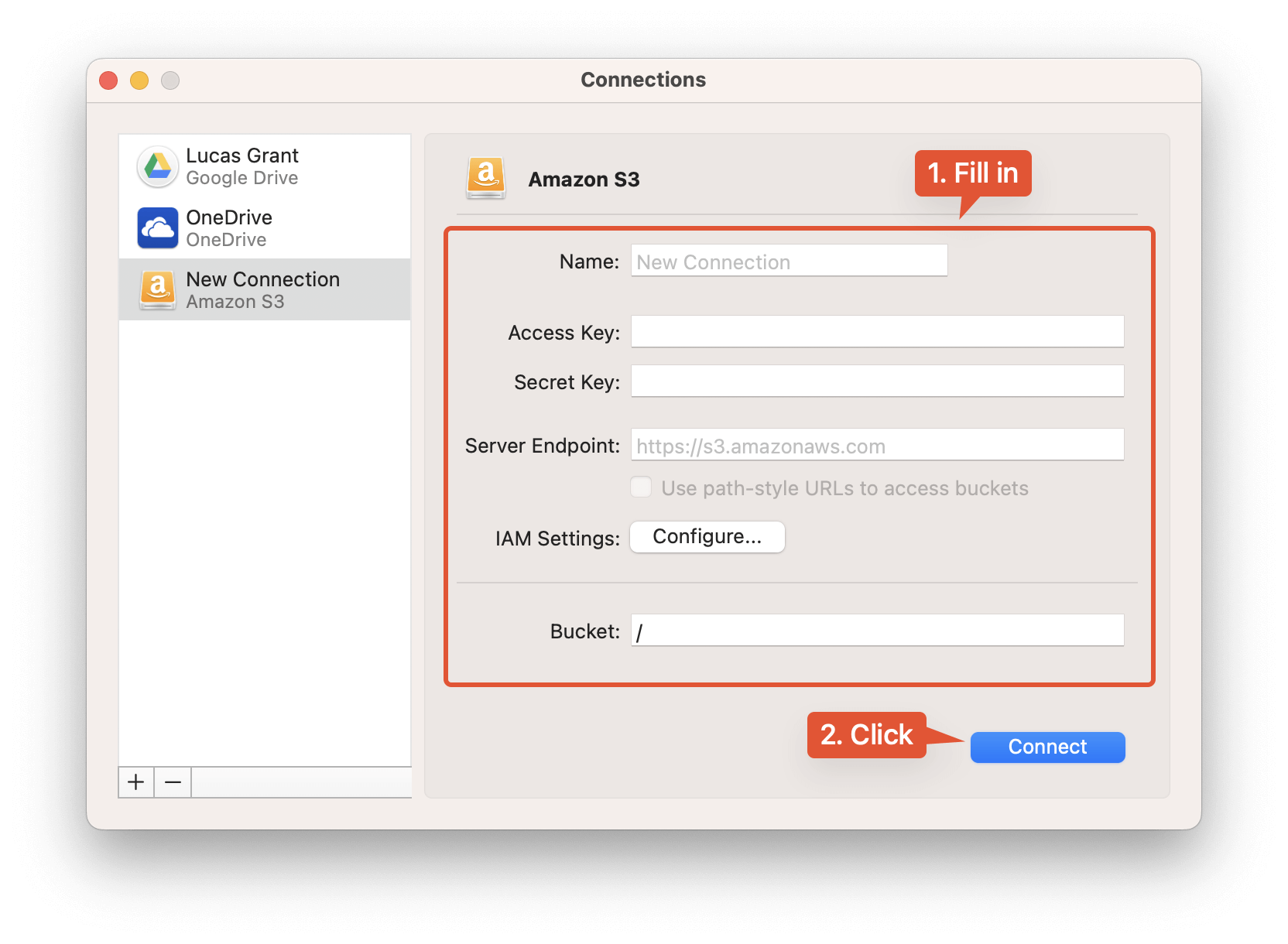 5
You'll now be able to see all of your files and folders in the dual-panel windows of Commander One.
6
With Commander One, you can perform various tasks, including drag & drop your files, copy and paste them (using shortcut keys Command+C and Command+V), and use the F5 key to quickly copy data.
7
When you copy files in batches, a window will pop up showing how much time is left until they've finished copying.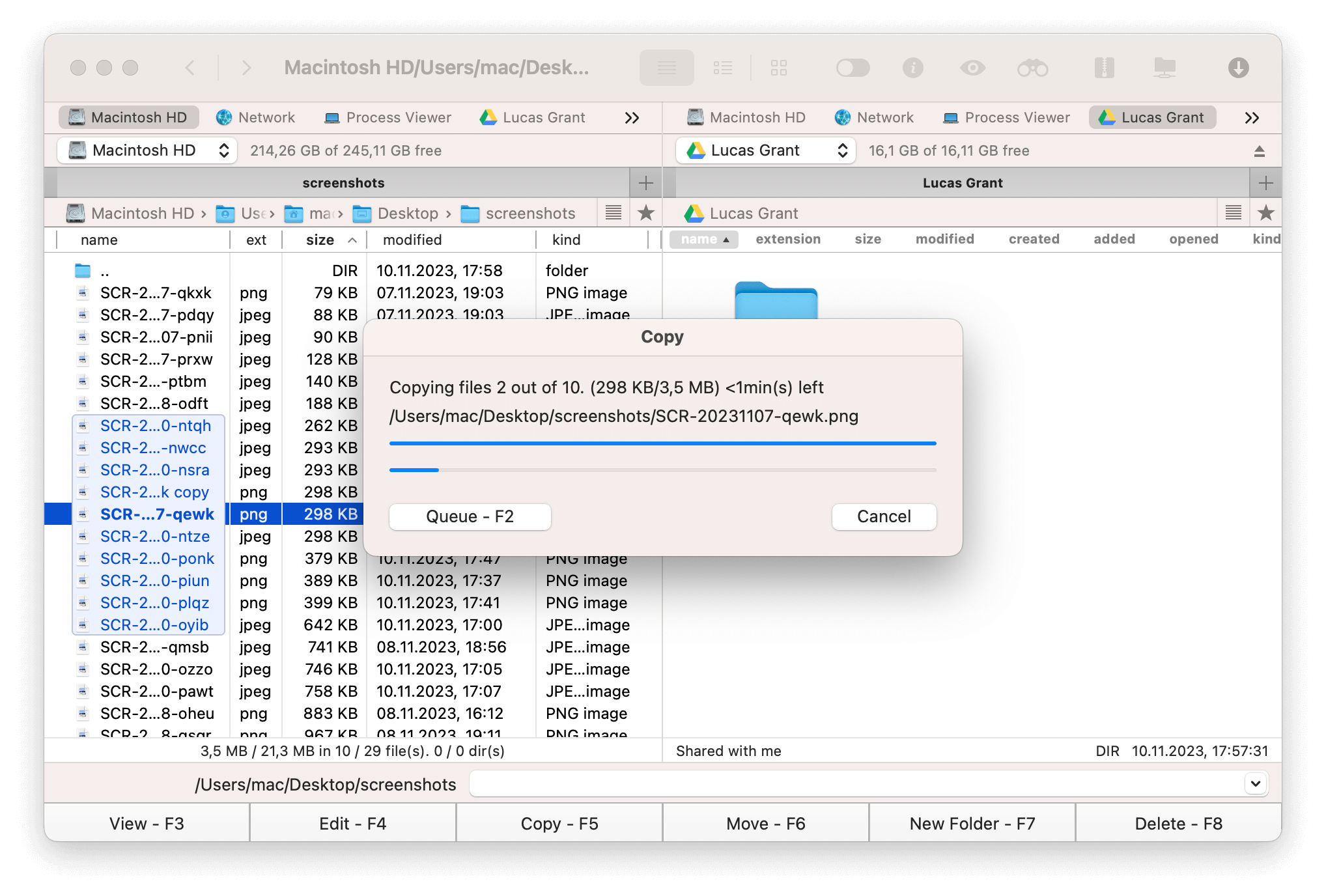 8
You can see now how easy it is to FTP to an S3 bucket with the help of Commander One. There's no need to configure anything. Just follow the on-screen instructions, and you'll be good to go!
Note that you can also use Commander One to transfer files from S3 to FTP server (the other way around!).
Bonus Tips
When it comes to FTP and other protocols, things can get confusing very fast. Don't worry, though, because we've gathered some helpful tips for you. Below, we've explained various things that will help you get a better understanding of both FTP and Amazon S3.
S3 vs. FTP: What's the Difference?
The main difference between an S3 client and FTP is that the former was specifically created for storing things, while the latter's purpose is to transfer files over a remote server. When you read the full names of the two protocols, their functions become clear – Amazon Simple Storage Service (used for storage purposes) and File Transfer Protocol (used for transferring files).
In AWS S3, you can store large amounts of data as it's much more scalable than other protocols. As long as you have an active Internet connection, you can access it from anywhere in the world.
FTP's scalability, on the other hand, depends on the server where the files are stored. 
Another major difference between the two protocols is how you pay for them. Amazon S3 has a "pay-as-you-go" model, which means you only pay for the storage you actually use. With FTP, the cost depends on you (if you're setting it up yourself) or the host (who may have their own pricing model).
AWS Transfer Family - Native Amazon Service
AWS Transfer Family is a service provided by Amazon that lets you transfer to and from Amazon S3 and Amazon EFS using four protocols, namely SSH SFTP, FTPS, FTP, and AS2. 
With the help of this service, you can get access to an AWS-enabled server that lets you transfer files without having to tweak the clients' settings.
The price of AWS Transfer Family depends on factors such as the protocols being used at the endpoints, your region, the amount of data being uploaded and downloaded, and more. 
There are various FTP clients with Amazon S3 support, including OpenSSH, FileZilla, and Cyberduck. You can use any of these services with AWS, but the costs can rise quite quickly. With Commander One, you can easily use AWS without having to pay anything. In fact, even if you purchase Commander One Pro, you'd still be paying less than what you'd pay with other FTP clients.
Size Limits on Uploading to Amazon S3
Like most cloud services, Amazon S3 has a size limit. A single object can be up to a total of 5 TB in size. Keep in mind that a single PUT will allow you to upload a file of 5 GB in size. AWS recommends using "multipart upload" if your files are larger than 100 MB.
More Cloud Services and Protocols Supported by Commander One
To transfer files from FTP server to AWS S3 bucket, Commander One is the perfect application, but that's not all it can do. You can add different types of FTP server storages to Commander One and then access their contents easily without moving to another window.
Here are some other cloud services and protocols it's compatible with:
Frequently Asked Questions
Yes, Commander One can connect to Amazon S3. You can mount it as a drive and then access and manage all your files that are stored on it. Simply add it as a connection in the Connections Manager window.
Yes, you can FTP to an Amazon S3 bucket, but it can be costly and may require additional AWS tweaking. It's far simpler to just download Commander One and add Amazon S3 as a drive. This will allow you to access all the data stored on it within the Commander One app.