OneDrive is a cloud storage service developed by Microsoft. It allows users to securely store various important files such as documents, photos, videos, and others, making them accessible from almost anywhere with an Internet connection. You can also use FTP with OneDrive, but you'll need a third-party app to get the job done.
So, if you're looking for a reliable client to help bridge the gap between OneDrive and FTP, we have the solution for you. In this article, we will show you one of the best tools to connect OneDrive to FTP quickly and easily.
The Easiest Method to FTP to OneDrive - Commander One
Commander One is an all-in-one file management software for macOS that includes built-in FTP capabilities. It offers a user-friendly dual-pane interface that greatly simplifies file operations. With Commander One, you can mount OneDrive as a network drive on Mac, as well as your other cloud accounts and FTP servers, and access and edit online photos, documents, presentations and spreadsheets directly from your Mac desktop without the hassle of syncing files to the cloud or downloading them to your computer.
Commander One is also the easiest way to transfer FTP files to OneDrive. No more manually downloading and then re-uploading files – Commander One helps you directly share files in just a few clicks. File transfers are accomplished by simply dragging and dropping between two panels inside the app.
How to Transfer Files from the FTP Server to OneDrive and Vice Versa?
2
Launch the app and invoke the "Connections" manager. Then choose an FTP connection from the list.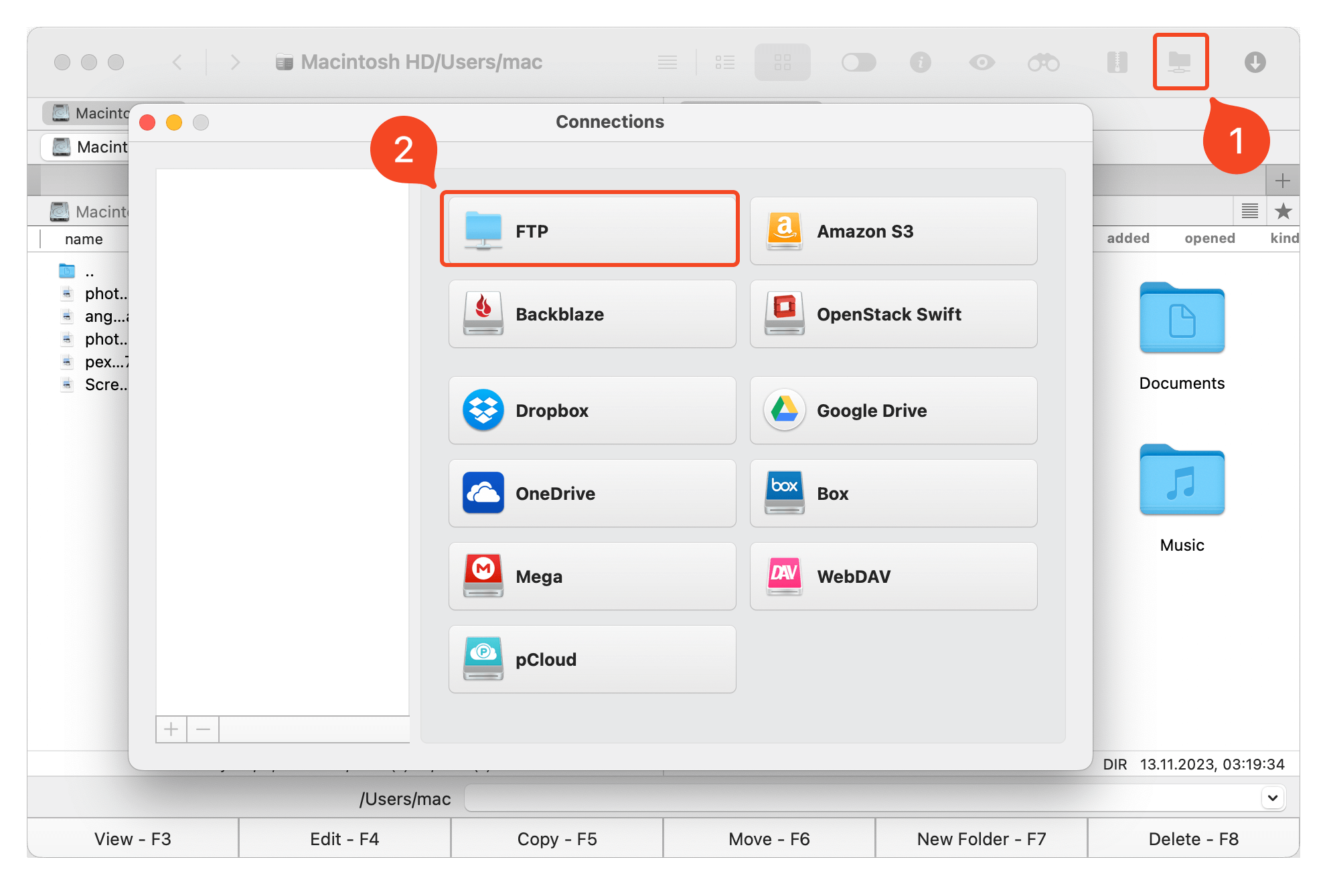 3
Next, specify the connection name, server address, port, FTP credentials and remote path. Select mode: active or passive.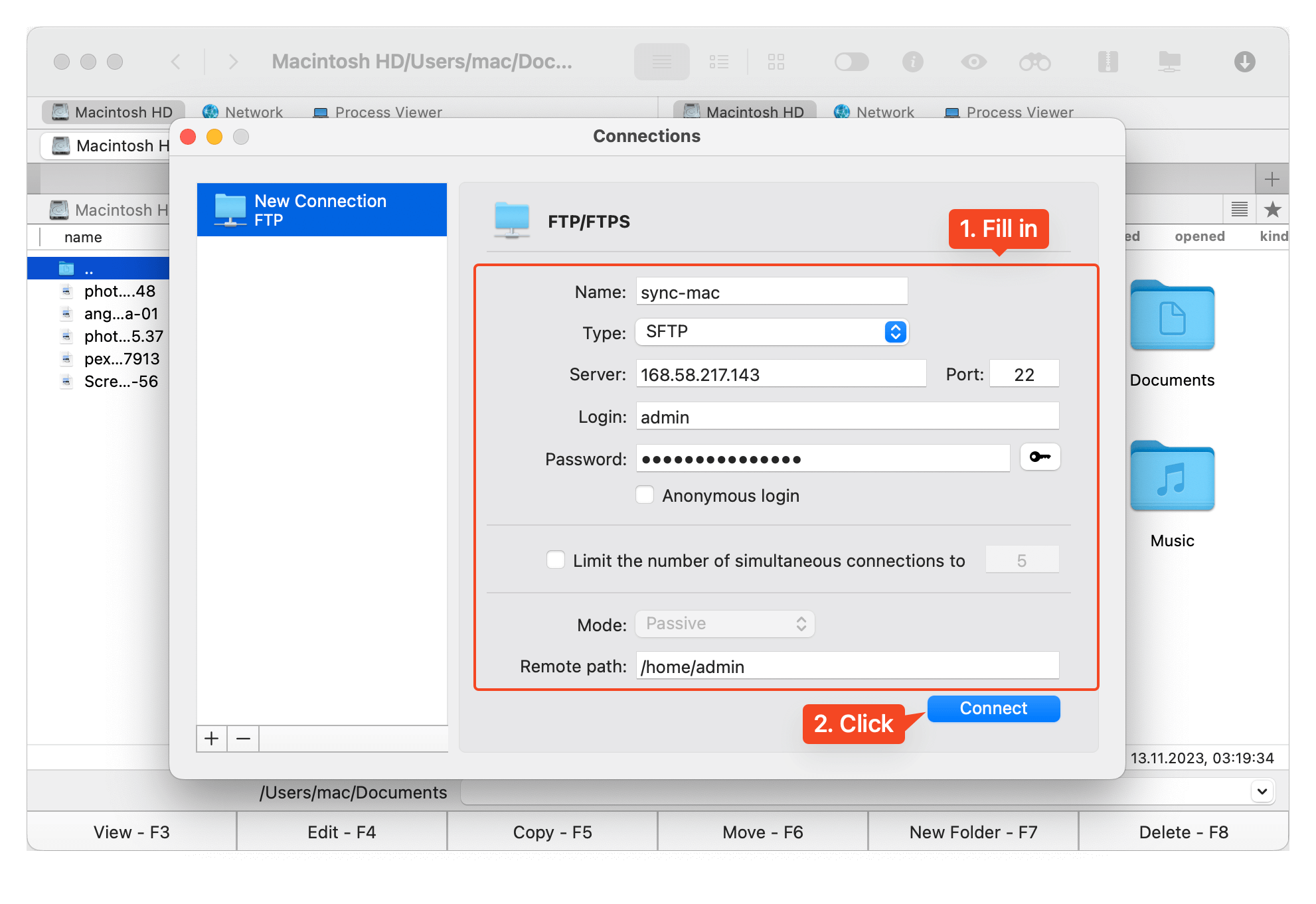 4
Now you need to connect to your OneDrive account. To do this, open the "Connections" manager again and select "OneDrive". Log in to your account.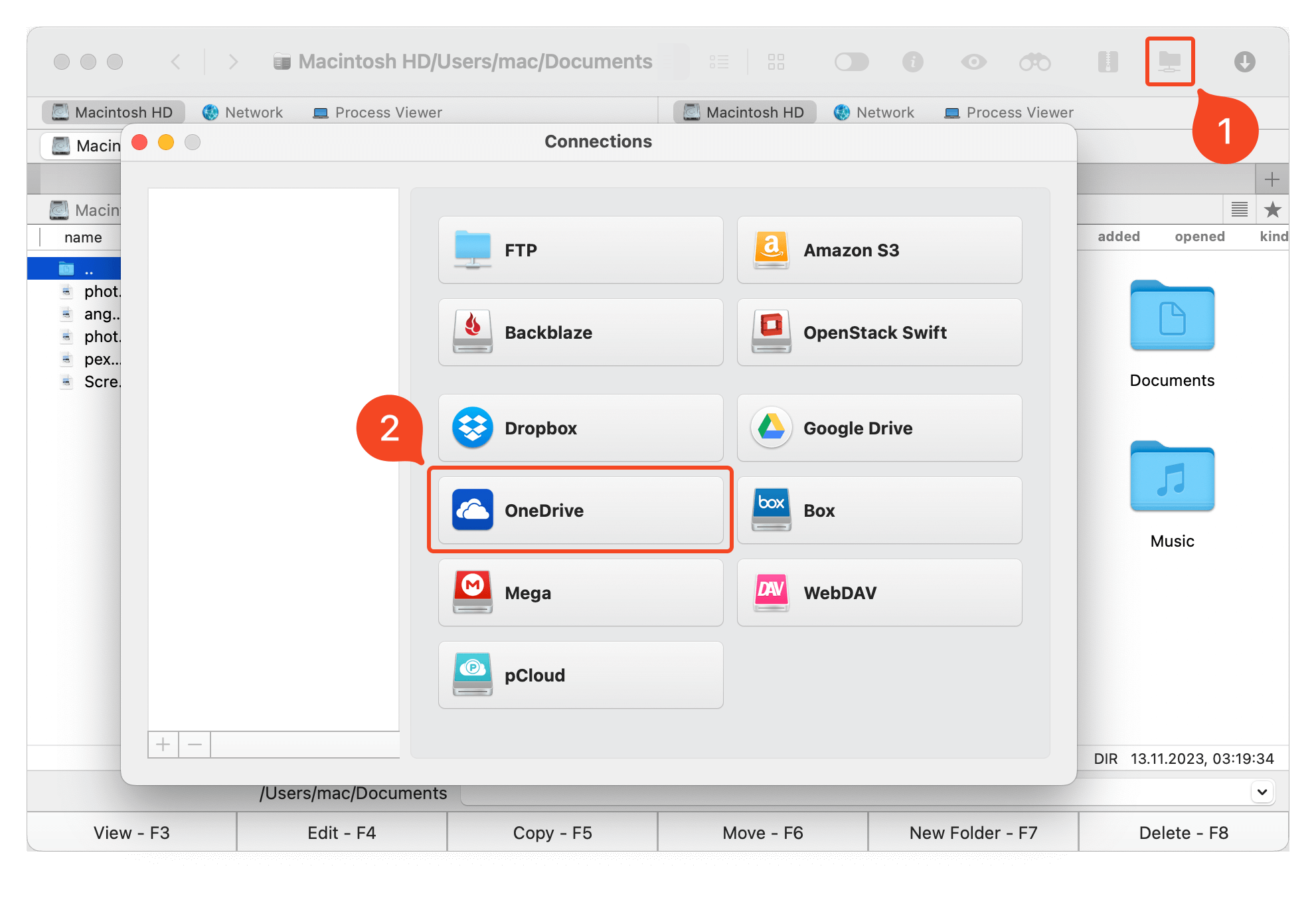 5
Once connected, you'll see all your files and folders in Commander One's two-pane window.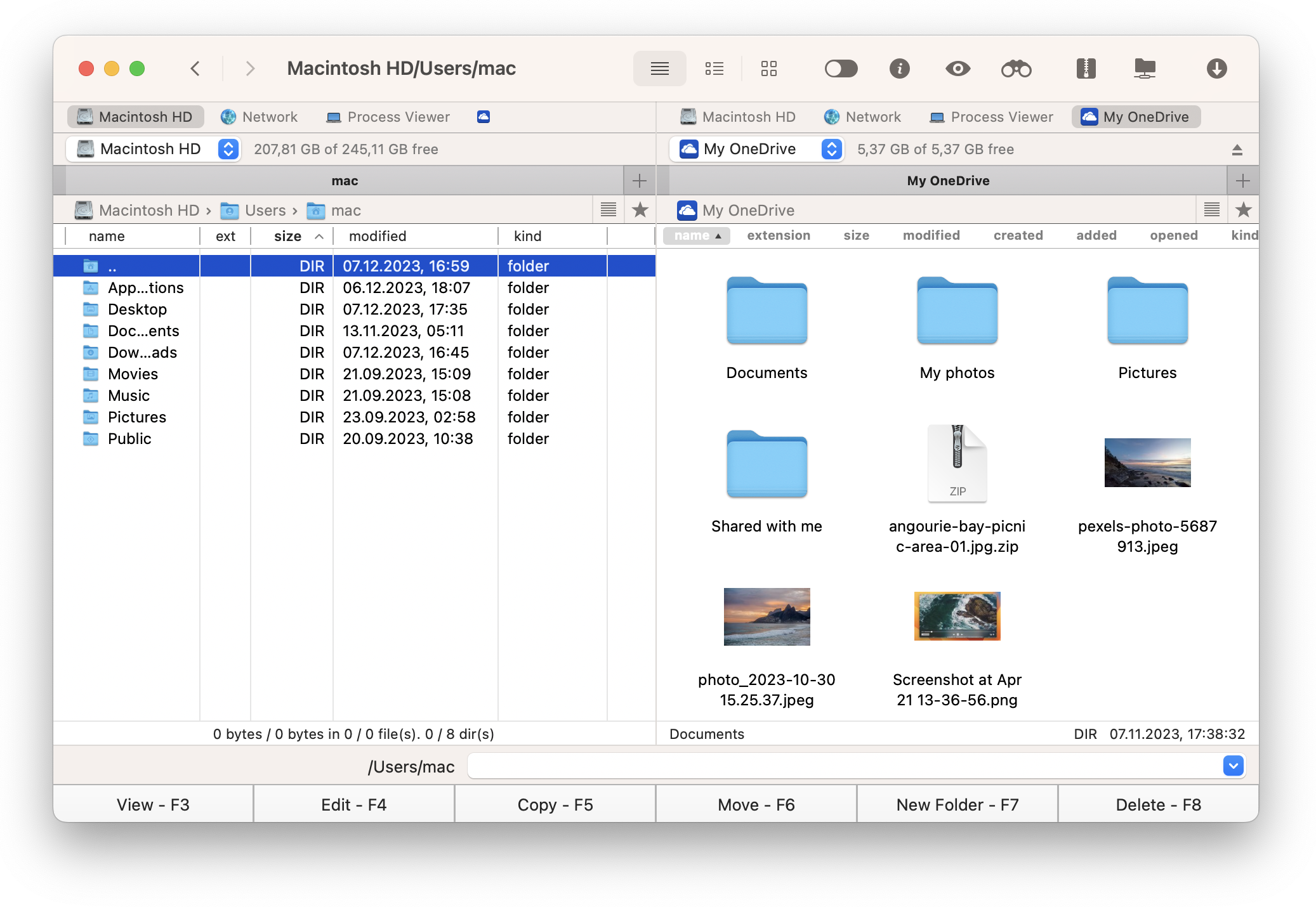 6
Now you can transfer files under FTP account to OneDrive using one of the following methods:
drag and drop
copy/paste 
press the F5 key on the keyboard
press the "Copy-F5" button in the interface.
Difference between OneDrive and FTP Server
FTP (File Transfer Protocol) server and OneDrive are both methods for storing and sharing files, but they still have differences. Let's look at them. 
An FTP server (also known as an FTP host) is a computer that has an FTP (File Transfer Protocol) address and is designed to accept FTP connections. It stores files and allows uploading and downloading files to/from the server using third-party apps. To connect to the FTP server, you'll need the following information: login, password, server address. There are also FTP servers that do not require you to enter credentials. These are often anonymous or public FTP servers designed for testing purposes.
FTP can be accessed either through a web browser, using Finder or via FTP clients, which offer greater flexibility and more features and functionalities compared to other methods. 
OneDrive is a cloud-based storage platform that lets you store files in the cloud and access them across different devices with Internet connection. It seamlessly integrates with Microsoft Office 365 tools, making it even more convenient to collaborate on documents, spreadsheets and presentations in real-time.
To sum up, cloud services have more advantages than FTP. They are easy-to-use and provide instant access to files stored in the cloud, whereas FTP often requires setup and dedicated software.
Reasons to Move Data From FTP Server to OneDrive
While FTP servers may be straightforward for techies, most regular users find using the FTP clients and servers quite time-consuming and challenging. Complex configurations and the need for additional software often leave users feeling overwhelmed.
Cloud storage, in turn, is more user-friendly and accessible and does not require much technical knowledge. This makes it an attractive choice for individuals and organizations.
Microsoft OneDrive Uploaded Files Size
There are some limitations on the size of files uploaded to OneDrive. In 2021, Microsoft has increased the previous file upload limit to 250GB. These limits apply to files and do not affect the total storage capacity. For large files, it is recommended to use the OneDrive app.
Alternative Connections Supported by Commander One
The list of cloud storage services supported by Commander One is fairly extensive. It includes all popular services such as Dropbox, Google Drive, Amazon S3, BlackBlaze B2, etc. Additionally, WebDav protocol is supported. With Commander One, all your cloud accounts and remote servers are in one place and easily accessible.
Frequently Asked Questions
Commander One is a dual-pane file manager for Mac. It allows you to perform various file operations, access and manage cloud drives and network servers, and provides advanced features such as FTP/SFTP client, archive management, and more to handle files efficiently.
Commander One has two versions: FREE and PRO. The FREE version includes a built-in viewer, various search methods and sorting options, ZIP archives support, etc., while the PRO version unlocks advanced features like FTP support, Terminal emulator, and the ability to mount cloud storage accounts and manage online files.