Why look for a Finder replacement?
Finder isn't the easiest file manager in the world to use and has often been a point of contention between Windows and macOS users. If you're wondering, how does Finder work on Mac, the answer is that it's difficult to navigate, extremely slow, and has no Advanced Search feature, so finding files is challenging. Lack of functionality is also a major issue, as Finder's features aren't updated regularly compared to Windows software.
In addition, finding photos or videos using Finder can be a nightmare as viewing options are extremely limited. These are just a few of the main reasons why you might be looking for a new file explorer Mac to replace Finder.
What to look for in a Finder alternative?
When searching for the best Finder Mac alternative, there are a few features definitely worth looking out for:
Intuitive and user-friendly

: Ensure the software you choose is intuitive and user-friendly so that there isn't a steep learning curve requiring hours of reading and learning in order to use the software.

Compatibility

: The software should be compatible not only with your Mac, but with any other devices you want to use, such as Android or iOS devices.

Reliability

: Software should be reliable and bug-free so you can manage your files easily — reading user reviews can help you determine how reliable software is.

Customizability

: Being able to customize features, particularly viewing options, makes it easier for you to find and manage files.

Dual-panel view

: This makes it easier to compare information than using a single-panel view.

Additional features

: While not essential, look out for handy additional features like syncing files and folders, network file management, batch renaming, support for plug-ins, etc.
We've included a handy checklist of features to look out for below, which you can refer to when hunting for the best Finder replacement.
Checklist of must-have features the best file manager for Mac should have
Keep this checklist of must-have features handy when searching for a Mac file browser:
User-friendly/intuitive
Compatibility
Reliability
Customizability
Dual-panel view
Supports plug-ins
Additional features like batch renaming and network file management
List of Best Finder Alternatives For Mac
Below we have listed ten of the best Finder alternatives for Mac, in no particular order. We've also considered the pros and cons of each alternative, to help you choose.
Commander One is a Finder alternative for Mac with a dual interface, making it easy to view and compare files. It's easy to customize the layout and colors to suit your needs, and the software supports three view modes and a variety of different folder formats. Commander One works with Android, iOS, and MTP devices and allows you to easily move files between local and cloud storage such as Google Drive, Dropbox, etc. It's also easy to search for files by name, and there's support for Finder tags, as well as keyboard shortcuts to make frequent tasks easier.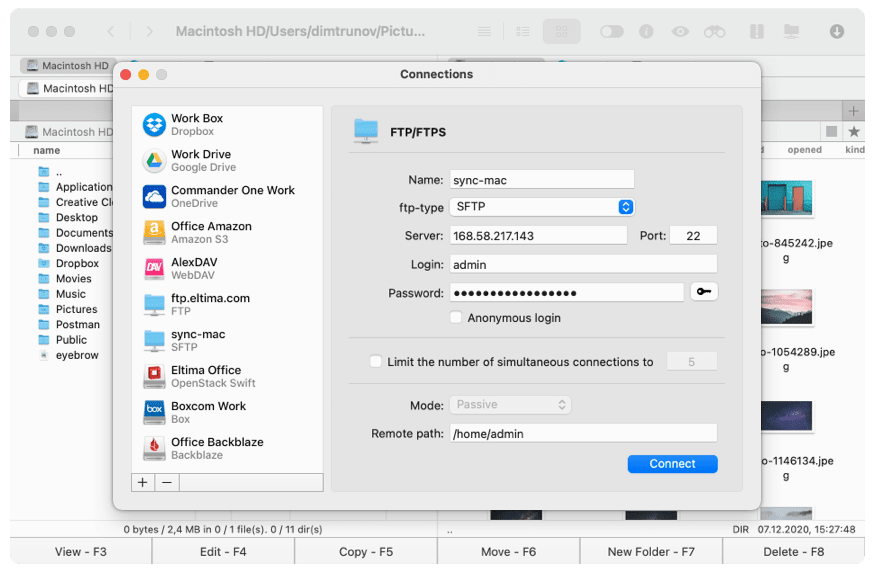 Pros:
Cons:
No batch renaming
No single-pane view
No synchronize directories feature
Not the most intuitive software for beginners
2. Forklift
Forklift is a powerful, compact file manager with an intuitive interface for quick navigation. Dual-pane view makes viewing a breeze, and the software is highly customizable. There's also remote connection, so you can connect with cloud storage, network storage, or your server, plus a powerful search feature that lets you search by file name, tags, or extensions, as well as folder synchronization. You can try this file organizer software Mac for free for 14 days before buying.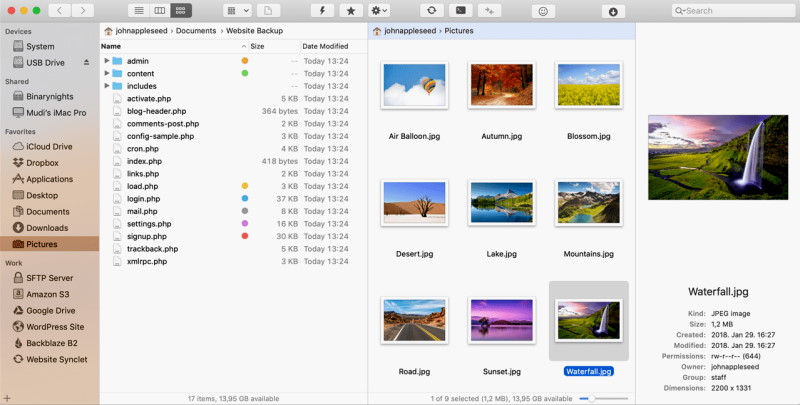 Pros:
Supports sequential batch renaming
Folder syncing
Remote connection with cloud storage, network storage, or your server
Forklift Mini sits on the Menu bar for quick file management
Highly customizable with multiple viewing options
Remote file editing
Powerful search function using file names, tags, or extensions
Cons:
Can be slow
Errors can occur when copying a large number of folders from FTP
Cloud sync isn't the most reliable
Choice of programs for comparing files/folders is limited
No function for calculating the hash file
3. Path Finder
Path Finder looks a lot like Mac Finder, so it's intuitive and easy to use. This file manager has a wide range of interface settings, is customizable, and supports dual-pane view. The handy Drop Stack feature makes it easy to copy and move multiple files on your Macbook, and the software integrates with AirDrop, making it easy to send files to other Apple devices. There's also support for cloud file uploading to Google Drive, Dropbox, Amazon S3, and other cloud services. In addition, there's a 30-day free trial.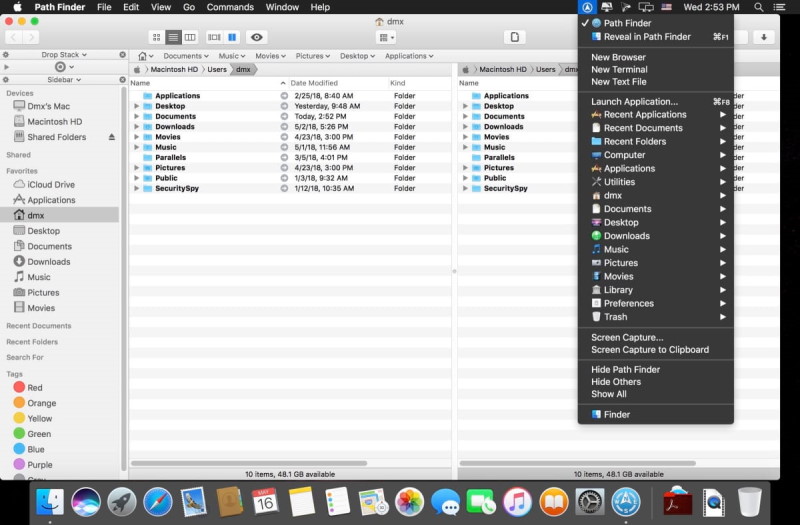 Pros:
Highly customizable
Integrates with AirDrop for file sharing with Apple devices
Cloud file uploader works with Google Drive, Dropbox, and other Cloud services
Cons:
Expensive compared to some other apps
Can be a bit buggy
Too many unnecessary features and functions
4. HoudahSpot
HoudahSpot is an excellent Finder replacement. With its advanced search function and powerful filtering, it makes it easy to search files, folders, mapped network drives, and even email clients for files. You can search by file name, text, file extension, author, recipient, image resolution, and more, and filter results so you only see relevant files. The clutter-free interface is easy to navigate and you can save created queries for future searches. There's even a Text Preview feature that lets you peek inside files without opening them.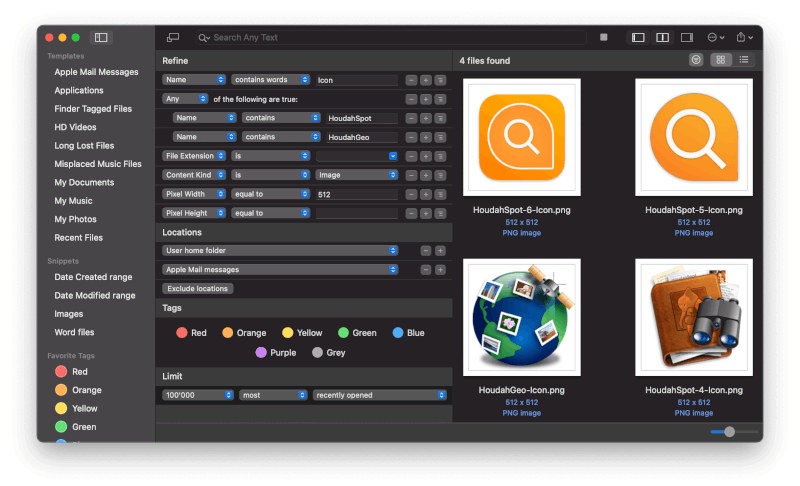 Pros:
Clutter-free, intuitive interface
Search files, folders, mapped network drives, and mail applications
Search by file name, file extension, text, author, recipient, image resolution, and more
Sort and filter results by date
Save searches for future use
Quick Look and Text Preview lets you peek inside files
Cons:
No option to search system files
Bit of a learning curve at first
Ability to find only Spotlight indexed files
5. Nimble Commander
Nimble Commander is a speedy dual-pane file manager Mac aimed at professionals. The classic, intuitive design is easy to navigate and performance is blazing fast, even with multiple windows and tabs. The software offers a free 30-day trial and there's a free version as well as the Pro version.
Features include a terminal emulator, admin mode for unrestricted root access, and various search and filter options based on file name, size, or content. There's also integration with Quick Look and Spotlight, and this software is highly flexible and customizable, though it's not the best for beginners.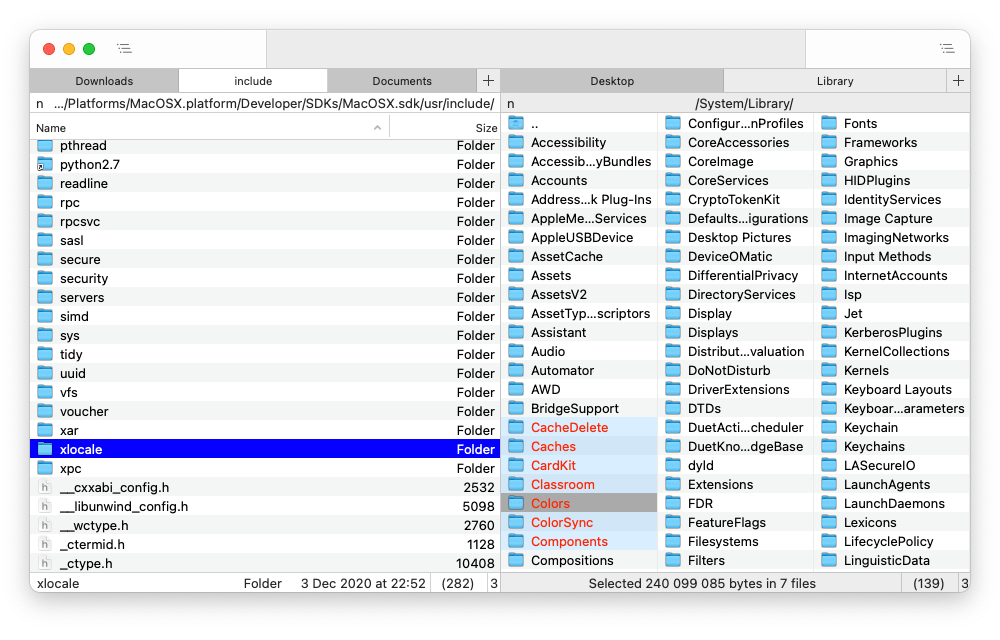 Pros:
Free 30-day trial and free or pro version
Highly customizable and flexible for professionals
Classic, intuitive interface
Quick keyboard access and shortcuts
Admin mode for unrestricted root access
Connect to remote FTP and SFTP servers
Ability to create symbolic and hard links
Cons:
Not aimed at beginners as there's quite a learning curve
No vertical scrollbar
Can sometimes have issues opening a link to network folders
6. Fman
Fman is a dual-pane file manager Mac that also works on Windows and Linux. With its minimalist interface, it's a great option for beginners and, though it doesn't have many advanced features, it supports third-party plugins, with a wide range to choose from. Fman is also a very small app that's not resource-intensive, making it an excellent choice for those with older or slower computers or low disk capacity. It's easy to use and lets you quickly switch between panels using the Tab key.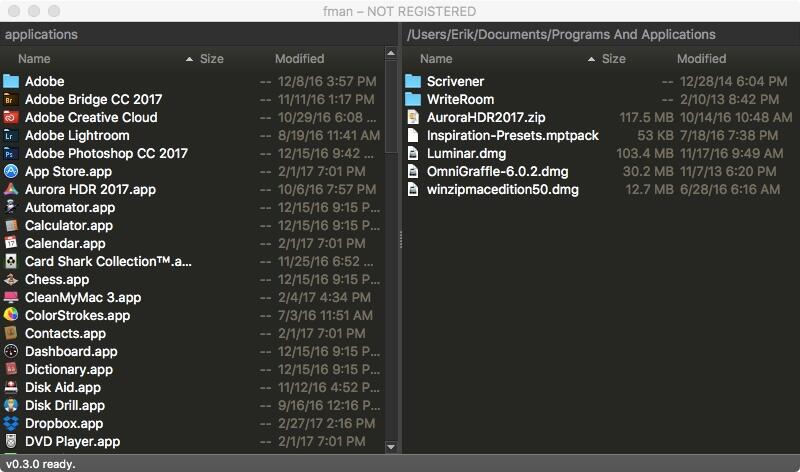 Pros:
Wide range of third-party plugins to choose from, or create your own
Minimalistic interface
Easy to use
Small and not resource-intensive so ideal for older/slower computers
Ctrl/Cmd + P lets you quickly jump to a directory
App remembers which folders you use most often and suggests them
Cons:
No advanced features and many common features missing
Young app with still-weak functionality
7. XtraFinder
XtraFinder isn't a replacement for Finder, more of an add-on for your file organizer software Mac. It supports tabbed and dual-panel file management, and is easy and intuitive to use. Additional features include the ability to create shortcuts, automatic column width adjustment, and a built-in terminal. XtraFinder supports all Mac versions back to 10.6 and is regularly updated. You can use the software for free or buy it for $4.99.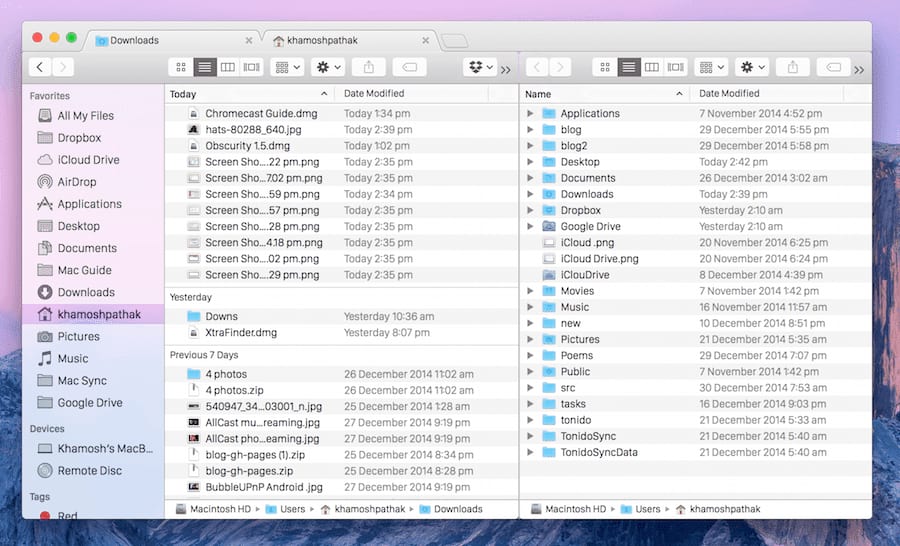 Pros:
Regularly updated
Supports all macOS versions back to 10.6
Easy and intuitive to use
Built-in Terminal
Ability to show folders first
Create shortcuts
Cons:
Can't show hidden files
Does not support Mac ARM
Can be buggy with some recent macOS versions
8. TotalFinder
TotalFinder is an add-on for Finder that's intuitive and easy to use. This Mac file browser is regularly updated and supports dual-pane viewing, with remappable keyboard shortcuts. There are plenty of preferences for customization and support for hotkeys. TotalFinder uses Chrome-style tabs and enables Folders on Top. There's even the Visor Window feature that lets you assign a keyboard shortcut that opens a sliding Finder window for quick tasks. It's worth noting here that updates for TotalFinder have now been discontinued and available support is limited. The software is still available to download but no longer available for purchase, so may not be the most future-proof option for those with newer Macs.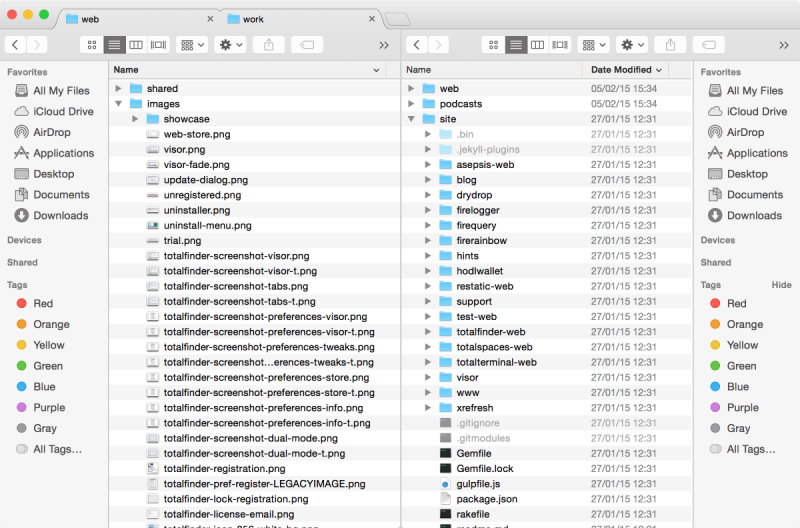 Pros:
Regularly updated
Intuitive and easy to use
Customizable
Can display hidden system files
Folders on Top sorting option
Can assign keyboard shortcut with Visor Window feature
Chrome-style tabs
Cons:
Not compatible with M1
Can be slow when rearranging sidebar tabs
9. CRAX Commander
CRAX Commander is a fully-featured Finder replacement offering a free demo. It's highly customizable and provides a dual-pane browser, with advanced search, table data filtering, and archives handling. You can connect to FTP, SFTP, SMB, or AFP and the software works with archives in a wide range of formats, including ZIP, 7-ZIP, RAR, BZIP2, GZIP, and AR. There's a built-in text editor, batch renaming, and support for drag and drop operations too, and the software integrates with Dropbox. You can download the free demo before deciding if CRAX Commander is right for you.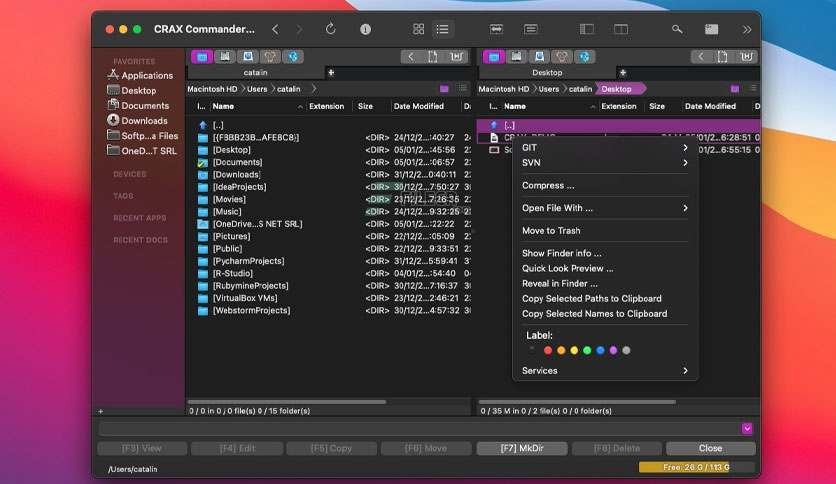 Pros:
Highly customizable
Great for advanced users
Open multiple tabs simultaneously
Connection to remote data storage via FTP, SFTP, SMB, AFP
Work with archives in ZIP, RAR, 7-ZIP, GZIP, BZIP2, AR formats
Dropbox integration
Batch renaming
Cons:
Users have reported performance issues when working with SFTP
Unable to open some external drives
Sometimes copies the wrong file
Unable to copy files without size calculation
10. muCommander
muCommander is the final file explorer Mac on our list, and this one is free, open-source, and cross-platform. It has a fully customizable interface and dual-pane viewing, with the ability to view directories in the form of a tree, and support for multiple archive file formats including ZIP, RAR, bZIP2, and gZip. Other features include batch renaming and universal bookmarks. The software also supports Google Drive and Dropbox cloud storage.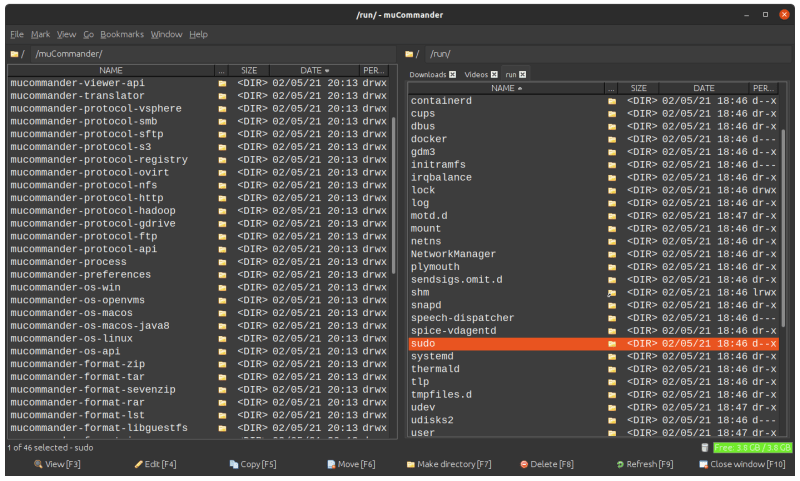 Pros:
Free, open-source software
Cross-platform
Supports ZIP, RAR, bZIP2, gZip, and other formats
Batch renaming
Create universal bookmarks
Fully customizable interface
Support for FTP, SFTP, SMB, NFS, HTTP, and more
Cons:
Must have Java 11 or later installed
Doesn't show folder size
Does not remember settings
Comparing table of the best Finder alternatives
The below comparison table is a quick way to see at a glance which Finder alternative includes which top feature, with features ranging from dual-panel mode to customizable hotkeys.
Scroll to view more

Top features

Commander One

Forklift

Path Finder

HoudahSpot

Nimble Commander

Fman

XtraFinder

TotalFinder

CRAX Commander

muCommander

Double panel mode

Double panel mode

File encryption

File encryption

Built-in FTP client

Built-in FTP client

File preview

File preview

Search for specific files

Search for specific files

RegEx search

RegEx search

Customizable hotkeys

Customizable hotkeys

Archiving files

Archiving files

Support for local and network drives

Support for local and network drives

Show hidden files

Show hidden files

Multilingual

Multilingual

Customer support

Customer support

Price

Free (PRO Pack - $29.99)

From $29.95

$29.95/annually, $2.95/monthly

$34

Free (Paid - $24.99)

$39

$4.99

Discontinued: only free version available

$19.99

Free
Conclusion
Our list of Finder alternatives and add-ons includes some powerful, advanced apps packed with features, and any of these apps could be the right one for you. Our recommendation from the above list would be Commander One. Not only is it easy to use, it also makes moving files between local and cloud storage a breeze, and supports many archive formats as well as Finder tags.
For more advanced users, it's highly customizable and it works with Android, iOS, and MTP devices, making it a versatile and powerful app. What's more, you can try out all the Pro features totally free for 15 days to ensure it's the right choice for you!