Dropbox Client
No need to install Dropbox – Commander One lets you map Dropbox as network drive on your Mac, so you can easily access multiple Dropbox accounts without copying or syncing files to your hard drive. Download and upload files directly from Commander One to your Dropbox accounts.
Any number of Dropbox accounts
There's no limit to the number of Dropbox accounts you can access using Commander One. Mapping multiple Dropbox accounts simultaneously is easy, allowing you to manage and move files without saving them to Mac, and view and edit files in your Cloud storage as if stored locally on your Mac.
Safe access to Dropbox
Commander One takes security seriously. The software establishes a connection via the official Dropbox developers API and never uses any additional services for logging into your Dropbox account, keeping your personal information safe and secure. The app also supports two-step verification.
Keep Safe Web Protocols
With Commander One you can ensure all your files across cloud storage and remote servers are safe and secure. Encryption keeps files stored in your Google Drive, OneDrive, Dropbox, and Amazon S3 accounts safe, as well as documents stored on FTP, SFTP, and WebDAV servers.
NEW
Yoo-hoo! Commander One runs natively on Mac computers with Apple silicon: M1 and M2 series!

Why users love Commander One
Commander One is a reliable, powerful FTP client for macOS that's easy to use and saves space on your MacBook's hard drive. Offering dual-panel view, you can have multiple folders across various cloud storage accounts and servers open simultaneously, making file management a breeze.
The intuitive interface supports any type of file and allows you to open unlimited tabs at once, as well as offering the option to set up hotkeys for your most frequent actions, saving you time. For more advanced users, the Command Line bar offers the ultimate control over your files, with the built-in Mac Terminal emulator.
As well as being an excellent FTP client for Mac, Commander One is an all-around file manager that lets you move, copy, delete, and edit files from multiple servers or mapped cloud drive accounts as if they were stored locally on your Mac. There's a powerful search tool to find files, a built-in viewer, and root access, giving you complete control over all your files. You'll also find support for popular plug-ins, adding versatility to the app.
Commander One lets you add Dropbox, OneDrive, Google Drive, Amazon S3, and more cloud storage accounts, giving you total control.
Finally, Commander One is a safe, secure way to manage your files. The app uses the Advanced Encryption Standard (AES) with a 256-bit key length, ensuring your personal data stays secure.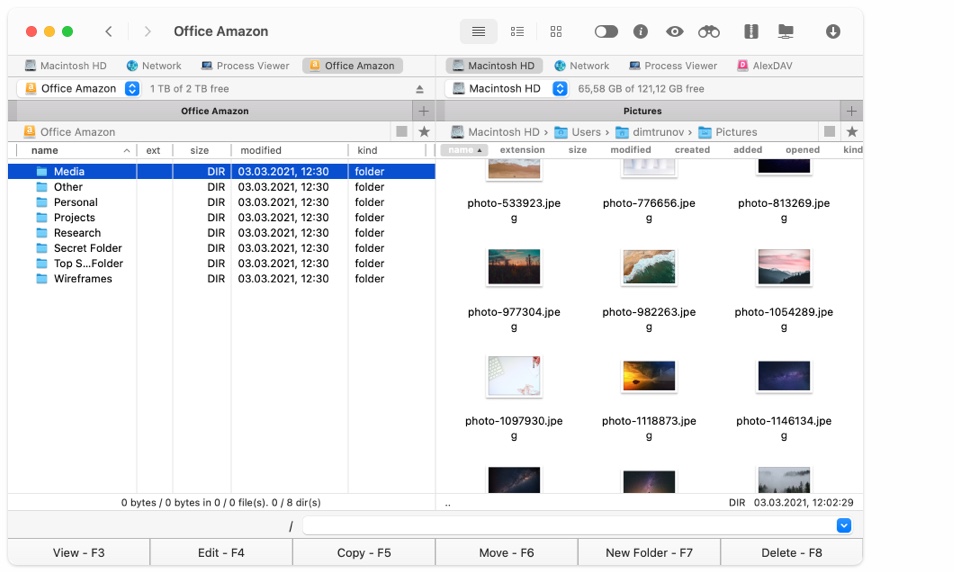 Connection Manager
With Commander One it's quick and easy to access and manage your remote servers and cloud storage accounts.
Commander One's AWS S3 client for Mac makes it easy to link your entire cloud storage account or just specific buckets.
With Commander One you can connect to the WebDAV protocol server, allowing you to work with files directly from the app.
Commander One allows you to mount Dropbox as drive or integrate multiple Dropbox accounts — by integrating accounts, you can easily share Dropbox links.
By mounting unlimited Google Drive accounts simultaneously, you can work with all your documents and sheets in a dual-pane environment.
With Commander One,
mapping your OneDrive accounts
is easy, so you can work with all your files as though they were stored locally on your hard drive.
No need to copy files to your Mac's hard drive – Commander One lets you manage your documents directly from your
Box Cloud account
.
Support for encryption on online connections


Web services (FTP, Amazon S3, WebDAV)

Cloud storages (Dropbox, Google Drive, OneDrive and more)
Private files

s#hV*IJ@3*mK

folder

mountencr2

Research

iu3T5YKp$dVy

xls

mountencr2

Presentation

(F-7bd[,-[Nj

png

mountencr2

Report-20xx

ypZp}tx6GL<d

doc

mountencr2
Encrypt data
How to map Dropbox as network drive on Mac
It's easy to map Dropbox as network drive using Commander One. Just follow our handy step-by-step guide below:
3
Open Connections Manager.
4
Select Dropbox, then follow the instructions in your browser.
You should then be able to work with your Dropbox files by mounting your account as a drive (so you can access your files via the Dropbox API).
Frequently Asked Questions
Yes, you can use Commander One to easily sync Dropbox to a network folder.
You can easily download files from Dropbox to your computer by hovering over the file you wish to download and clicking the ellipsis, then Download. However, with Commander One you can manage files without needing to download them to your MacBook, saving space on your hard drive.