Commander One is a native Google Drive Mac Client
Cloud storage makes it easy to backup your files and access your work from anywhere, and with Commander One you can use your Google Drive as a local network drive. Then, you can not only access, but work with online files as the local ones: create, edit and download files. Commander One is a native Mac compatible app that centralizes Google Drives with a macOS client.
Centralize multiple connections with a local client
If you use multiple accounts for work, school, social, and more, you can centralize your access by mapping them as local drives on your computer. Rather than logging in and out of multiple accounts to access work or personal documents, navigate quickly between files in Commander One.
Quickly move files between all your cloud accounts
Moving files between cloud accounts is tedious, rote work that compromises efficiency. Commander One makes file transfers easy. There's no need to save files to your computer and then re-upload them to a new account. Just connect your cloud accounts as network drives using Commander One. Then, quickly move files between cloud accounts directly from the file manager.
Get the same accessibility for shared files
When coworkers or friends share files and folders for collaboration, through GDrive or using a link, you can still edit and save them on your Mac's desktop. Commander One streamlines your workflow, regardless of how or where files are created and saved.
NEW
Yoo-hoo! Commander One runs natively on Mac computers with Apple silicon: M1 and M2 series!

How to Mount Google Drive on Mac with Commander One
You can increase your computer's SSD/HDD space by using a cloud service to store your big files. Commander One lets you create, edit, save, and move files between servers without saving to your computer by mounting your cloud accounts on your local network location. Here's
how to map your Google Drive to Mac
.
2
Open the Commander One and navigate to the Connection Manager in the toolbar.
3
Select Google Drive from the icons.
4
When the browser window opens, select the account you'd like to use to mount Google Drive to your Mac. You can map all of your accounts as separate drives.
5
Login to your Google account and grant permission for Commander One to see, edit, create, and delete files.
6
The folders and files in your Google Drive will appear in one of the panes of Commander One, where you can open, create, edit, or delete them.
7
Users can open a separate cloud server in the other pane of Commander One to move files and folders between the two seamlessly.
Commander One streamlines your workflow and gives you instant access to your work on remote and cloud drives. It also remembers your credentials for all remote servers and cloud storage accounts, so you only have to log in once.
Commander One protects uploads to cloud and web services
Get the same security and control your cloud service accounts using Commander One. The app encrypts all files for upload to all cloud storages and web services, including:
Google Drive
Dropbox
OneDrive
Amazon S3
FTP/SFTP/WebDAV
Safeguard the integrity of your files while still enjoying the convenience of a local drive with the powerful encryption of Commander One.
Reasons users love Commander One
Commander One enables Mac users to handle their online files as if they were stored on their desktop. There's no need to wait for syncing to the cloud to begin working or save files from the cloud to your computer. When you mount your Google Drive locally with Commander One, you always have access to your essential files.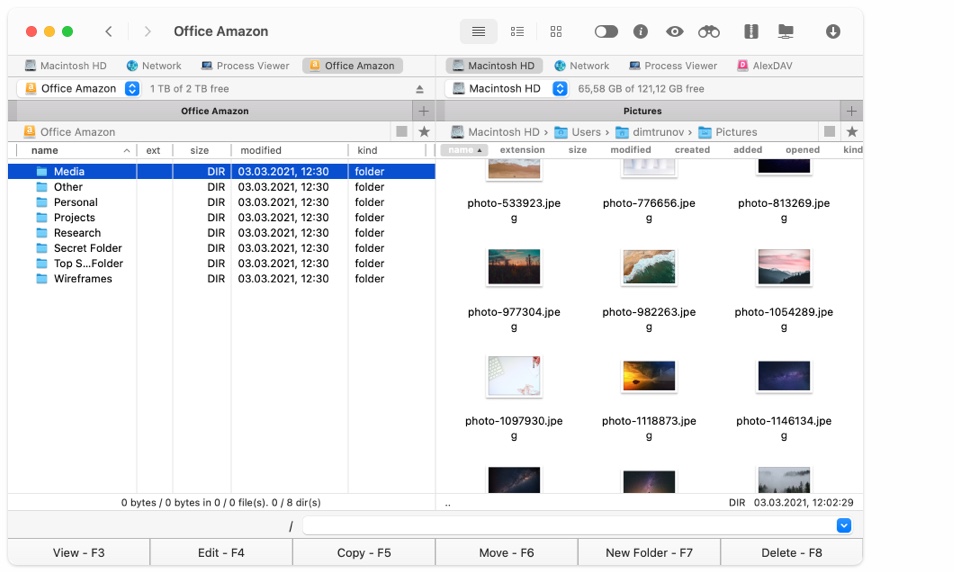 Here are some more reasons users love Commander One:
Mount all your cloud accounts in a single window for easy navigation
Use the drag and drop features to move files between cloud drives without having to save them to your computer first
Streamline your workflow and maintain efficiencies by taking advantage of background uploading using the file queue
Use Commander One as an FTP manager with dual-panel versatility for working across several directories at once
Get total peace of mind with secure encryption for uploading files to remote and cloud servers
Commander One comes with an intuitive interface and includes a variety of handy tools and essential features:
Custom hotkeys and unlimited tabs
Selection tool to only open and work with the files you need
Extract and compress with ZIP support
View and access other computers on the network
Commander One offers the support and intuitive features that users need to operate as a professional, whatever the project.
A powerful connections manager for Mac
Regardless of how many cloud service accounts a user has, Commander One makes it easy to access and manage files across them. You can even move files between accounts without downloading them to your computer first.
Either link the entire storage of your Amazon S3 cloud using Commander One's AWS S3 client for Mac or just select designated buckets to access through the file manager.
Commander One instantly connects users to the WebDAV protocol server through the app by mounting the server as a local drive.
Make it easier to mount or integrate all your Dropbox accounts through the app. When you choose to integrate, you can even share links.
Mount Google Drive accounts into the dual-pane environment of Commander One so that you can create, edit, delete, and save files without downloading.
Don't deal with saving your
Box cloud service
files to your computer to edit and save. Manage everything directly from Commander One without taking up additional space on your Mac's hard drive.
Support for encryption on online connections


Web services (FTP, Amazon S3, WebDAV)

Cloud storages (Dropbox, Google Drive, OneDrive and more)
Private files

s#hV*IJ@3*mK

folder

mountencr2

Research

iu3T5YKp$dVy

xls

mountencr2

Presentation

(F-7bd[,-[Nj

png

mountencr2

Report-20xx

ypZp}tx6GL<d

doc

mountencr2
Encrypt data
Frequently Asked Questions


When you mount Google Drive as a network drive, you can work with files and folders as they were stored on your computer's hard drive instead of the cloud. Commander One eliminates the need to copy files to your computer before transferring them to cloud drives or vice versa.
To mount your Google Drive as a local drive, download and install Commander One.
Select Connection Manager in the top toolbar of Commander One
Choose Google Drive, and log into your account in the pop-up browser window
The files and folders on your Google Drive will appear in one of the dual panes of Commander One
Commander One remembers all of your credentials, so you only have to log in once.
Using Commander One, it's easy to add multiple Google Drive accounts to Mac. Once you mount cloud storage as a local drive, you can handle important online files and folders as the local ones.