FTP Meaning
FTP stands for File Transfer Protocol and is one of the oldest protocols in existence, having the functionality of moving files conveniently. Users can connect to access their files through an FTP client, which through the power of this protocol gives the opportunity to manage directories and subdirectories easily.
FTP Client Trends
Without a doubt, the File Transfer Protocol technology remains in demand even to this day. Even though its first iteration came out 51 years ago, the industry is still using and improving on top of it every year.

Popular in all countries across the globe, FTP is still dominating the charts. The best way to access your server is through FTP clients, and thankfully, these are getting more advanced and even simpler to use.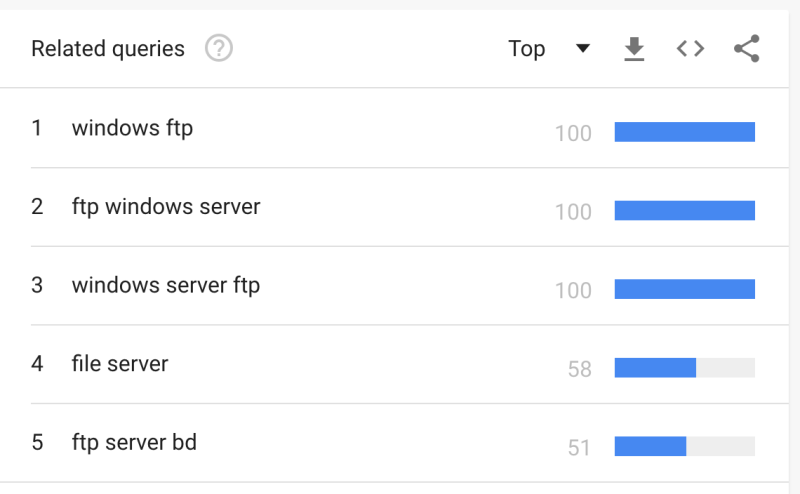 There are many advantages of using this software, many of them drastically changing the way people thought of file management before. Here are some of the benefits of using such a powerful application:
The ability to transfer multiple files at once
The ability to transfer whole directories at once
Queues allow users to transfer hundreds of files without having to move them single-handedly
If you have lost connection to the server, the transfer will resume once it's re-established
No limits when it comes to file sizes
Ability to move files from one server to another seamlessly
Although it might seem like the most popular software out there for FTP file transfers is Filezilla, there are plenty of better alternatives. Whether you are using Mac or Windows, these clients can offer even more than you thought was possible, and based on our research, you might want to take a look at some of these.
From better functionality to increased security and the ability to encrypt files before they are placed on the server, these are some of the features users are looking for when searching for the perfect FTP client.
Software creators have anticipated the high demand for powerful clients and have filled the gaps with their iteration of what people have been searching for. There are currently many youtube videos where various channels are listing their favorite FTP clients, although some of them might not be the most suitable ones based on our criteria and reviewing system. With so much demand, and so many people from all over the world looking out for the best solution, we've gathered a list of some of the most used FTP clients.
FTP Clients List
With the degree of popularity that these FTP clients have reached, you can expect more and more to pop up in the wild and have all sorts of features. We've taken a look at some of the popular reviews out there that are comparing and establishing points about this software and we've decided to list them all based on the times they were mentioned.
Some of the top applications here might not be a surprise to anyone, but there are some clients that we're pleased to see being mentioned more often. Here are some of the most frequent products we've seen.
| | | |
| --- | --- | --- |
| Name | Number of mentions | As a percentage |
| FileZilla | 14 | 100 |
| Cyberduck | 14 | 100 |
| Transmit | 12 | 86 |
| WinSCP | 10 | 71 |
| Commander One | 8 | 57 |
| WS_FTP Professional | 8 | 57 |
| Free FTP | 8 | 57 |
| CuteFTP | 8 | 57 |
| ForkLift | 8 | 57 |
| CrossFTP | 5 | 36 |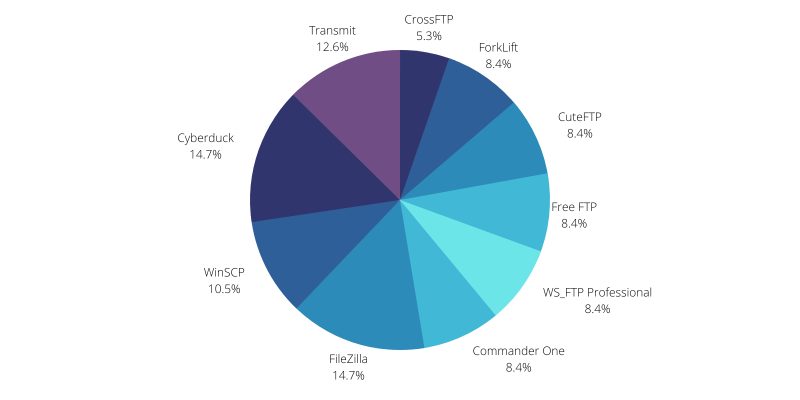 FileZilla
Some publications might think that FileZilla is the best ftp client and they have every right to believe so. It's one of the most popular clients in terms of searches and downloads, but not in terms of features.
While it can do most of the things that other clients do, its main advantage is that it's totally free and it has a well-established user base. The app also receives regular updates and has many functionalities that are very helpful such as an easy-to-use interface and a fast installation process.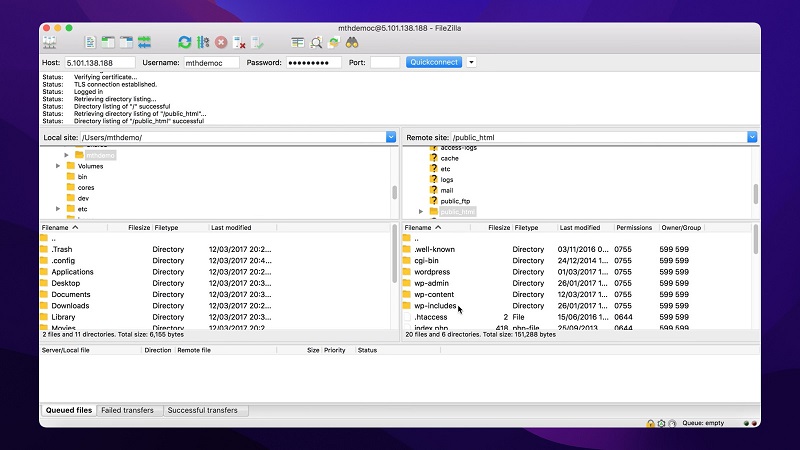 Pros:
Easy to install
Uploading files is very secure thanks to their implementation of encryption
Cons:
The interface is outdated for today's standards
Cyberduck
One of the best alternatives for macOS is Cyberduck. This all-in-one FTP client comes with support for more than just FTP, has a great interface that makes it easy to transfer files, and even allows users to encrypt their files prior to going onto the server. Even if you are using an SSL or TLS secure connection, you can still rely on Cyberduck to move, download, upload or delete files from a server.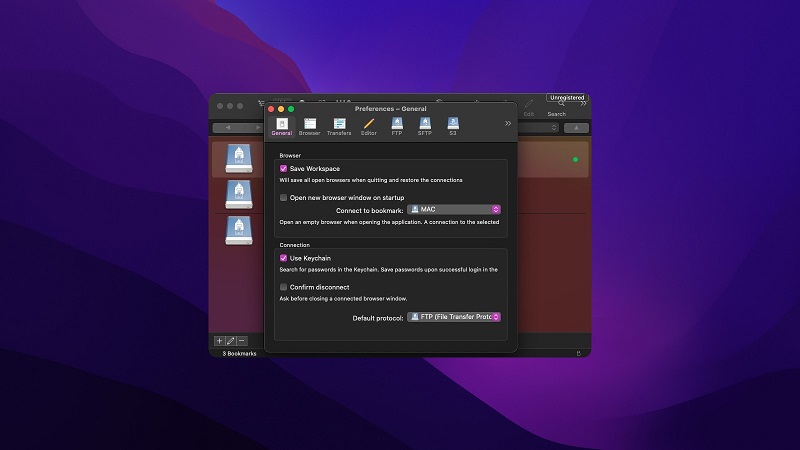 Pros:
Faster than usual transfer speeds
The interface is easy to navigate
Cons:
Some power users might not appreciate the simplicity of the interface
Transmit
This stylish FTP client has a lot in common with the other ones mentioned here but its main attributes are that it supports more than the file transfer protocol. The app, like many others, is only available for a free trial period of 7 days and after that, it will cost you $45 to keep it forever.
The offer is quite attractive considering that the people behind it rebuilt the engine to make it as core-friendly as possible and utilize as much power as possible for maximum transfer speeds.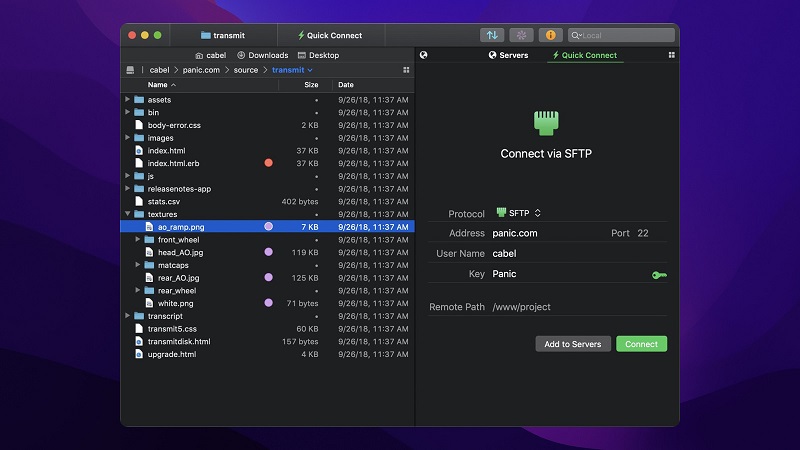 Pros:
Great download and upload speeds
Multi-file support
Cons:
Might be too pricey for some users
WinSCP
Although it's only an ftp client windows, this client comes with all the features from its Mac competitors above. It comes with some unique features such as the ability to edit text directly on the server through its integrated text editor, a great graphic interface, and is even available in most popular languages.
WinSCP is absolutely free and even supports synchronization with other protocols such as FTP, FTPS, SCP, SFTP, WebDAV, or S3.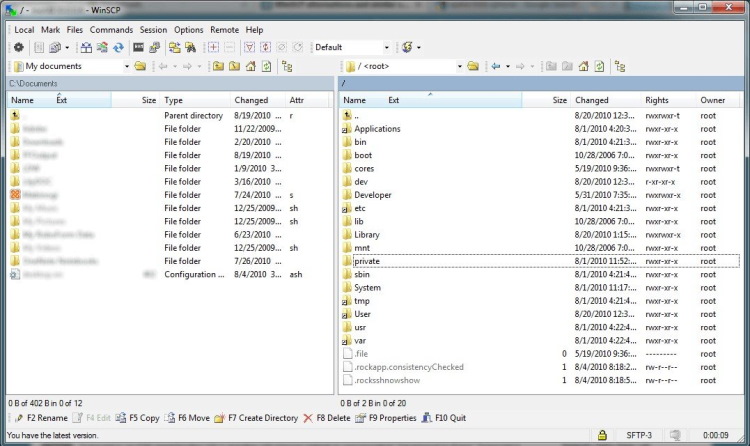 Pros:
Supports a large array of protocols
Ability to edit texts directly on the server
Cons:
Commander One
Although a file manager at the core, do not confuse this powerful application with a simple manager as it does serve many more purposes such as being a reliable FTP client.
With a brilliant design, the ability to edit fonts and colors, and many more functionality features, Commander One is a great alternative to other Mac FTP clients.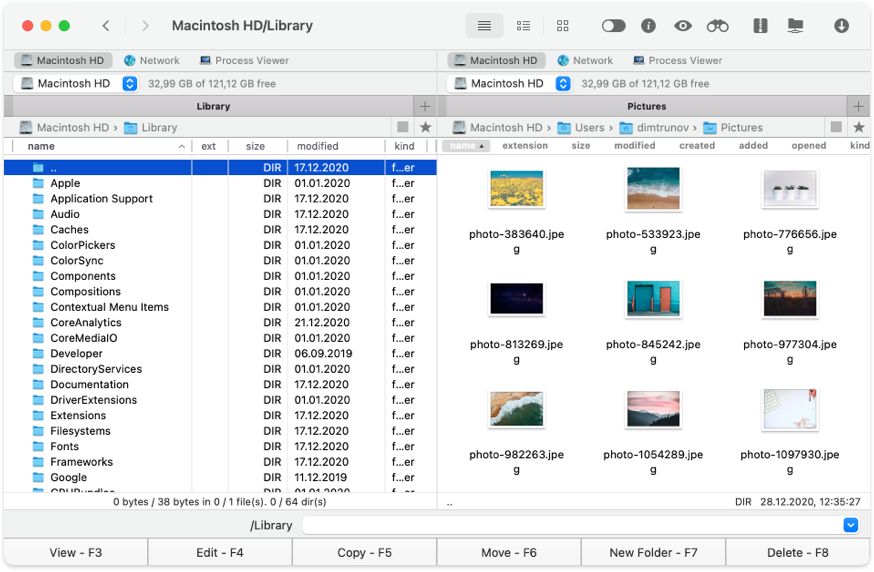 Pros:
Multi-tasking made easy due to the multi-panel interface
Supports numerous cloud storage services as well
Cons:
The best features are under the PRO version
Mac Ratings for FTP Clients
When taking a look at the applications for Mac, we can see that the ratings are expectable when it comes to the mentions. Whether you choose Transmit, Cyberduck, FileZilla, Forklift, or Commander One, you can know that you've made the right choice.
Based on the reviews and functionality of these apps, you will have a great FTP transfer experience. All of these clients have the basic features that you're accustomed to but also have quality-of-life features that make transferring files easier and faster.
| | | |
| --- | --- | --- |
| Name | Number of mentions | As a percentage |
| Transmit | 14 | 100 |
| Cyberduck | 13 | 93 |
| FileZilla | 13 | 93 |
| Commander One | 9 | 64 |
| ForkLift | 8 | 57 |
| CrossFTP | 3 | 21 |
| CloudMounter | 2 | 14 |
| FireFTP | 2 | 14 |
| UltraEdit | 1 | 7 |
| GoodSync | 1 | 7 |
Comparing table of the best FTP client solutions for Mac
Scroll to view more

Top features

Transmit

Cyberduck

FileZilla

Commander One

ForkLift

Easy to Use Interface

Easy to Use Interface

Drag and Drop Feature

Drag and Drop Feature

Support Hotkey Customization

Support Hotkey Customization

File Encryption

File Encryption

Edit Files Directly On Server

Edit Files Directly On Server

Folder Synchronization

Folder Synchronization

File Queue

File Queue

SFTP Support

SFTP Support

Support WebDAV

Support WebDAV

Cloud Connection Enabled

Cloud Connection Enabled

Reconnection to the server

Reconnection to the server

Multiple Languages Support

Multiple Languages Support

Price

Free / PRO $20

Free/$10

Free / PRO $20

$29.99

Free / PRO $20
FTP client rating for Windows
All of these file transfer apps for Windows seem to be mentioned in the reviews that we've researched. However, the first applications with over 5 mentions are worth taking a look at due to their practicality and the features they contain. Without a doubt, you can rely on Cyberduck, FileZilla, WinSCP, or CuteFTP if you are looking to transfer files seamlessly through FTP.
| | | |
| --- | --- | --- |
| Name | Number of mentions | As a percentage |
| Cyberduck | 12 | 86 |
| FileZilla | 12 | 86 |
| WinSCP | 10 | 71 |
| CuteFTP | 8 | 57 |
| Free FTP | 8 | 57 |
| WS_FTP Professional | 8 | 57 |
| CrossFTP | 4 | 29 |
| Core FTP LE | 2 | 14 |
| SmartFTP | 2 | 14 |
| UltraEdit | 1 | 7 |
Best FTP Clients for WordPress Users (Mac and Windows)
WordPress is the most popular PHP framework you can use for your website or blog. It acts as an open source solution that comes with a variety of plugins to enhance the experience and better customizes your webpage.
When taking a look at the search result statistics, we can see a high trend for people looking for FTP clients for their WordPress-powered blogs. We took a look at them and we've come up with the best ones you can use to move files to and from your WordPress page. The main advantage of using an FTP client for this platform is that you gain full control over the plugins, themes, and interface and you can basically edit any type of file you would like.
Given that it's an open-source platform, everything is fully customizable to your liking. The list below exemplifies some of the best options you can use to manage your FTP content. The main drawback to some of these might be that they are not free, but this is compensated by the extra features that they come with.
WinSCP
Cyberduck
Transmit
FileZilla
WS_FTP Professional
ForkLift
Free FTP
Core FTP LE
Review Criteria for FTP Clients
When it comes to our search criteria, we've looked at reviews from trusted individuals that have a lot of experience in this domain and have written cohesive and in-depth reviews of these products. Making sure that we picked the top safe FTP client for each category due to their complete reviews was the main goal when creating this article.
We wanted to make sure that all the data gathered was from handpicked experts and we used the latest and most powerful tools to determine the trends and the true popularity of any FTP client. Helpful was the main word when it comes to what we had in mind when looking at applications.
For example, we've taken a look at the reviews published by Devin Sears, who currently has over 53.000 Twitter followers and works for Bluehost, a web hosting website that allows users to have their websites hosted on their servers.
Hostings recommendations about Best FTP clients
When doing our research, we've also seen a lot of articles coming from hosting websites that are recommending an FTP client, Windows or Mac, for their users. These were all curated for their specific platform, but overall we've noticed a few trends we'd like to share with you, hopefully helping you with access your FTP server easier when it comes to your hosting provider. Without further ado, this is the list of the most popular clients we've found that are recommended by hosting websites:
FileZilla
CloudMounter
Cyberduck
Transmit
WinSCP
Commander One
Forklift
Choosing the Right FTP Client
One of the most important subjects when talking about the best FTP client is without a doubt the way on which one should choose an application to suit their needs. There are various things you must take into account when shopping for a new way to connect to your server.
Security
The first thing you should always take into account is security. No matter what anyone tells you, all the fancy graphics in the world and bonus features don't hold a candle to great security. This means that you will want your client to come with support for SFTP as well, with encrypted end-to-end communications and preferably be open source.
User Interface
The next thing you should have in mind when looking at a client is to make sure that the interface design is user-friendly and easy to use. We cannot stress enough how important this is, especially because you're going to spend a lot of time in this application if you are managing servers. This is why you must ensure that the interface was well designed and that it does not require any complicated set of actions to perform basic tasks.
Bonus Features
The last step is to make sure that all of the other bonus features are on par with what you are looking for. Maybe it's the ability to pause uploads, a built-in text editor, or even encrypt files directly from the app. All of these features should be taken into account prior to downloading and software.
Pricing
Last but not least, you should take into account the price. If your budget is limited, you might want to go for a free, open-source option that has fewer features but does not break your wallet. However, if you are someone who enjoys premium apps and wants to get the best possible experience, you might want to take a look at the ones that come with a price tag.
General Criteria Used To Evaluate Articles
When it comes to our selection of applications, we've been trying to keep a few guidelines to ensure that only the creme de la creme remains. We made sure to keep the important things in mind, that users care about, and that's how we compiled the lists.
The first thing we wanted to get out of the way was to make sure that all of these applications support the latest Windows version and the M1-powered Macbook. This is extremely important as most users with cutting-edge technology are expecting the best performance and experience from their product.
The next step was to determine whether or not the applications are getting frequent updates, if bugs are being patched fast and if improvements are coming in a timely matter. It is very important to have an application that is still being updated, as it can prevent data breaches and other security issues which might occur as technology improves.
The next subject was whether or not the application has a free version. Although we've included ones with free trials, we wanted to make sure that we depict options for every type of wallet and also to present some premium applications which some enthusiasts will enjoy.
Last but not least, we wanted to ensure that all of the applications are coming from trusted developers and not from third parties or malicious users with shady intentions. All of the apps are curated and can be downloaded safely from their respective websites.
What the reviews have to say?
To solidify your opinion on the top products, we've gathered a little bit from what the reviewers have to say about these applications. These are all genuine opinions from power users that know how to test applications and what they are seeking from them. Let's take a look!
FileZilla
When it comes to the most popular FTP on the list, it was described by users as a "Simple, Easy to Use and Versatile FTP Manager" which connects very well to FTP and SFTP hosts. Some have even gone ahead and declared it "most reliable, free, and easy to use FTP software". We've selected the following review to speak more about FileZilla:
Pros:
"I have been using FileZilla as the only FTP software for more than 10 years. It is light in size, easy to configure, and use. Its Pro version can be integrated with more than 15 cloud storage providers which come at just a $19.99 one-time purchase. It also provides CLI for Windows and supports Linux and OSx. Some of its best features are remote file search, multiple connections, 20 concurrent transfers, file comparison, and filters."
Cons:
"The user interface of FileZilla has not changed all these years. The UI can be made more attractive and user-friendly."
Commander One
The second position on the list has been described as a "Professional Mac FTP Client" and has received positive reviews from a lot of users. The popular Mac app has been a favorite of all the people owning a Macbook or iMac. Here are what one user had to say about the pros and cons for Commander One and what he would like to be changed:
Pros:
"I like the pro option to compress and extract within the platform to save time uploading and downloading files over the Internet, the local machine option, folder, and file manager from the platform."
Cons:
"The code is closed for mac, I would like a version available for GNU Linux and open source servers."
Cyberduck
Users claimed that Cyberduck is "Simply the best FTP and cloud storage browser" and acclaimed it for its many features and versatility. David G. working in Marketing & New Product Development said that it's a "lean, simple and excellent FTP client" and mentioned that it takes a lot less time to upload files. But let's see what other reviews have to say.
Pros:
"What I like best about Cyberduck is the simplicity of the app. Working on a Mac, the interface feels like a Finder window which makes using the app a familiar tool. Additionally, the ability to customize the app is greatly appreciated. Being able to add or remove icons from the toolbar is helpful."
Cons:
"I honestly don't use Cyberduck for anything crazy. The primary purpose for me is to transfer files to vendors quickly. There are other solutions like WeTransfer, but having the bookmarks to clients' FTPs in Cyberduck allows for more effortless transfer of files. With all of this said, there's nothing that I dislike. Again, with my limited needs, Cyberduck does all I want it to do."
The Verdict
After looking at hundreds of articles, we're prepared to say that we've chosen the best FTP clients you can possibly find for Windows or Mac at this moment. Any of the top 5 solutions should suffice your needs, even those who only have a free version. All in all, we hope that these apps continue to improve and that their developers continue to support them over the following years as they did in the past.