Reliable FTP software for Mac – Commander One
Commander One offers you all the necessary tools to successfully transfer and edit your files as well as perform more complex operations. In addition to performing file management functions, the app is a decent
FTP software for Mac
, cloud service manager, and is aimed to provide a high level of file management.
NEW
Yoo-hoo! Commander One is now natively compatible with Apple M1-powered Macs!

Dual Panel Mode
Dual-pane mode facilitates work with files and folders ensuring the easier transfer of data around. Performing multi-tasks while using Commander One has now become fast and convenient as there is no need to stick to one window, open thousands of them and jump across them all. The set of features offered by this FTP software for Mac/file manager is rather impressive and can satisfy the needs of each user.
Commander One offers full support for hotkeys to accelerate your workflow on the computer. Get super convenient work by assigning your own hotkey to any of your actions. All the processes can be done with a couple of clicks that can save your time and make your working routine much easier.
The main advantage of the command line is that it allows you to enter all commands without the participation of a graphical interface, which is much faster and has a lot of additional features that cannot be implemented in a graphical interface. Thanks to Commander One you can obtain additional administrative functions, as the app includes a built-in Terminal emulator.
Comfortable file operations
Commander One is not just a decent FTP software Mac solution but also an amazing file manager when it comes to organizing your workflow. Have the most convenient and easiest file management, as the app provides an impressive set of features when it comes to performance. Сopy, move, delete, search for files, have complete control over them thanks to root access, att file operations to queue, and way more. Enjoy how simple all these things can be while using Commander One.
Save your disk space
Access all your cloud computing services and remote servers within one app. Reach data with ease with no need for additional programs or clients. Save your computer's SSD/HDD space by not keeping your online files on your computer.
Dual-pane interface to improve your file operations speed tremendously
$475 cheaper than other solutions
Enlarge your Disk Space*
Macintosh HD • 128 GB
+47.26 GB
Amazing FTP capabilities are presented in Commander One making it the best FTP software for Mac. Higher security of file transfer can be obtained while using FTPS protocol whereas even more reliable data transfer can be obtained through SFTP protocol as Commander One is fully compatible with them all.
We strive for making Commander One a feature-rich app with all the possible functionality you may wish for and to make the app fully compatible with the most popular plugins to enlarge the functionality of Commander One.
For those who love spending time in front of their computer's screen at night, Commander One introduces the night theme with a range of colors to choose from. Replace your white background with a dark-grey or even black color, take care of your eyesight at night or simply keep up with the times with this SFTP software for Mac.
All servers within reach
Commander One is a great Mac FTP server software that supports not only FTP but also FTPS and SFTP protocols. Accessing remote servers is made in a convenient and secure way as all the settings are kept in macOS Keychain.
Multiple connections
Commander One is the easiest file manager with the ability to keep all your online connections at one spot. The app allows simultaneously connecting as many connections as needed and reaching the data absolutely hassle-free.
Connect as a normal directory
Working with online files has never been easier before thanks to this Mac FTP software. Commander One makes it possible to connect a remote server to your computer as a regular drive and deal with online files the same way as with local ones.
Additional security to all your online connections
Commander One is a reliable Macintosh FTP software that cares about the privacy of its users. Having safe and secure work is possible thanks to the encryption option implemented in the app as extra protection of your data is a must in our modern world.
Web services (FTP, Amazon S3, WebDAV)

Cloud storages (Dropbox, Google Drive, OneDrive and more)
Private files

s#hV*IJ@3*mK

folder

mountencr2

Research

iu3T5YKp$dVy

xls

mountencr2

Presentation

(F-7bd[,-[Nj

png

mountencr2

Report-20xx

ypZp}tx6GL<d

doc

mountencr2
Encrypt data
Reviews by popular media
"This app is everything OS X Finder wants to be"
"Here's a good example of a Mac utility which could be used to replace the Finder with a laundry list of more useful, albeit somewhat geeky, features."
"Once it's installed, you get dual pane browsing, unlimited tabs, a variety of sorting options, an easy toggle for revealing hidden files, and more."
"We found Commander One to be a convenient interface, making it easy to copy and move files at will."
Frequently Asked Questions
Utilities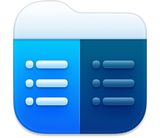 Commander One
free
This FTP for Mac client
is fully compatible with
macOS 10.12 and later
.
Requires

61.07MB

of free space
, latest version
3.4.1(3580) Released 17 Jun, 2022
4.5
rank based on
89
+ users